Root Cat S50 – Rooting a device allows users to get complete access to the device's operating system to make changes to the file systems. In order to root the Cat S50 running on the latest Android 4.4.4 KitKat, users are required to install the Kingroot file in the smartphone. Here is how to use the Auto-Root package to gain root access on the Cat S50.
The S50 from Cat is a tough phone that brings performance, functionality and practicality in a form factor that is really attractive no matter your gender or profession. it has a great specification, including a 1.2GHz quad-core processor and a stunning 4.7" display, for improved usage. It also has the latest version of Android 4.4(KitKat), 4G connectivity and 8GB of internal storage.
The S50 has an internal battery with a capacity of 2630mAh. This means you are able to use it for a couple of days without having without having to be near a charger. When you do need to charge your phone there is no need to connect a microUSB cable. Instead use a Qi wireless compatible charging pad (sold separately) and watch the battery recharge.
Rooting is a process that allows you to attain root access to the Android operating system code. With a rooted device, chances are high that you might want to tweak your system, install a custom ROM or install apps that need root access.
Disclaimer
Users should note that rooting the Cat S50 on Android 4.4.4 KitKat will void the device's warranty. But, users can reclaim the warranty by re-installing the official firmware update again.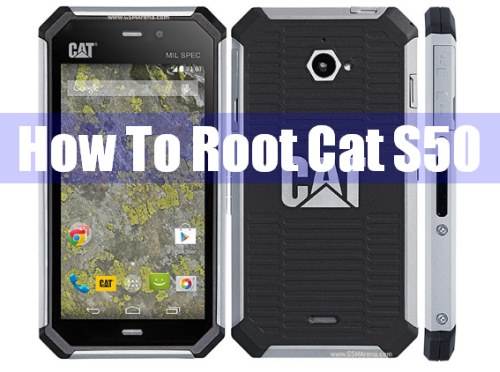 Step by step guide on rooting Cat S50 running Android Kitkat:
Download KingRoot 4.8.2 and install it. If you see a warning box then you require to check Unknown sources under Settings –> Security.
You should see the KingRoot icon in your App Drawer. Tap on the app icon to open it.
Once the app is lunched, it will try to analyze your device to find suitable root process and soon you will see the following screen.
Tap on "TRY TO ROOT" or "START ROOT" button that shown at the bottom of the screen.
Once completed you will see a big green tick that means your phone is now rooted.
To confirm if the device is successfully rooted or not, users can install an app called "Root Checker", which can be downloaded from the Google Play store for free.