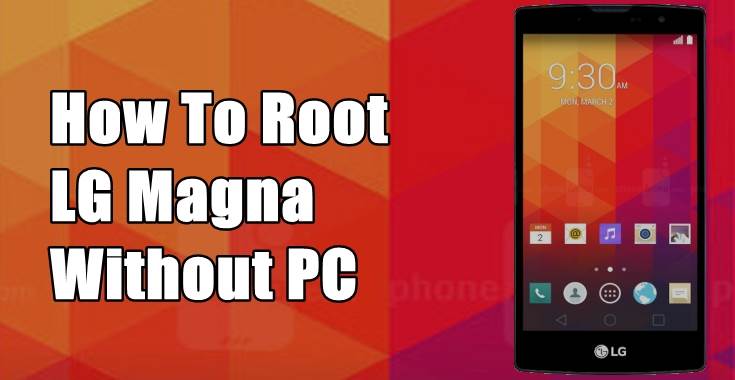 Root LG Magna without using PC. The LG Magna runs Android 5.0 and sports a 5-inch HD display, 1.3-GHz quad-core processor, 8-megapixel main camera and a 5-megapixel unit on the front, 1 GB of RAM, 8 GB of storage and LTE Connectivity.
You know most of the rooting method require you a Windows powered desktop but not for this one. Instead of any desktop application, for this root method we will use an Android app KingRoot. With the help of this useful app you can now root your LG Magna that running on latest official firmware (Android 5.0 Lollipop). Keep reading to learn necessary steps to root LG Magna with the help of KingRoot app.
Disclaimer:
Root access may void your device manufacturer warranty.
Rooting won't effect your device data, hence its optional to backup your device data.
Method 1: Root LG Magna Using Kingroot
Enter your phone's browser: kingroot.net.

Install Kingroot. This can be done through.."Unknown Sources" under Menu -> Settings -> Applications).

If your phone is unrooted, you can see the prompt saying that "Root access is unavailable". Then click the button "START ROOT".
It will take some time to root the phone.
When rooting, you can view the progress. When it is done, you will see the big green tick icon.

You have now succesfully Rooted your LG Magna. Check out for an application in your application drawer with the name as KingUser.
Method 1 is possibly the best and most reliable option as it has been extensively tested on various LG devices. If it didn't work with your device, then Kingo Root is the next best alternative.
Kingo Root is a universal rooting method that can root almost any Android device. Kingo Root is one of the safest rooting methods available for all Android devices. If Method 1 doesn't work with your device, then this is possibly the next best option.
Method 2: Root LG Magna Using Kingo root
You can visit APK Root for Android on your mobile and download the file on your LG Magna.

Install KingoRoot.apk on your device. If you didn't check "Unknown Sources" in Settings > Security, then during installation, you will get a prompt "Install blocked", stating that "For security, your phone is set to block installation of apps obtained from unknown sources".

Just follow phone instructions and install Kingo Root on your device and allow installs from "Unknown Sources".

Launch "Kingo ROOT" app and Click "One Click Root" to start the rooting process.

Waiting for a few seconds till the result screen appear. If rooting is successful, you'll get a Root Succeeded! message.
You can check whether your device is now rooted or not by installing an app called "Root Checker" which is available for free from Play store. Now you have a rooted device, you can install apps that ask root access such as Titanium Backup or RAM Manager.
The LG Magna won't take more than fifteen minutes to root, and thankfully has a reliable method to get it done. After rooting, the LG Magna is even more active than it was before, so enjoy your brand new rooted experience, and finally get the most out of your Android phone.