There are several reasons why you might need to reset your Xiaomi Mi8 SE. You installed too many applications and just need to delete all of them. You want to fix some other problem or sell this phone. In this article, you will find a step by step guide to reset Xiaomi Mi8 SE.
Xiaomi Mi8 SE comes with a 5.88-inch Super AMOLED display having a screen resolution of 1080 x 2244 pixels along with a pixel density of 402 ppi. It has an aspect ratio of 19:9 which adds style to the display.
In terms of performance, the device has a 2.2 GHz Octa-Core processor along with a Snapdragon 710 chipset that handles the overall functions of the device. It is assisted by an Adreno 616 and a 4GB RAM, that provide great performance together in terms of gaming or multitasking.
Three Easy Ways to Reset Xiaomi Mi8 SE
If you have come across major software problems on your Xiaomi Mi8 SE, then you are not the only one. From slowness to scrolling to significant battery drain, we've all been there. The thing to remember is that you can always reset your device to solve the problem.
Performing a hard and factory reset will wipe all data like your messages, files, call log, contacts stored on the internal storage and all 3rd-party apps and app updates.
Hard reset Xiaomi Mi8 SE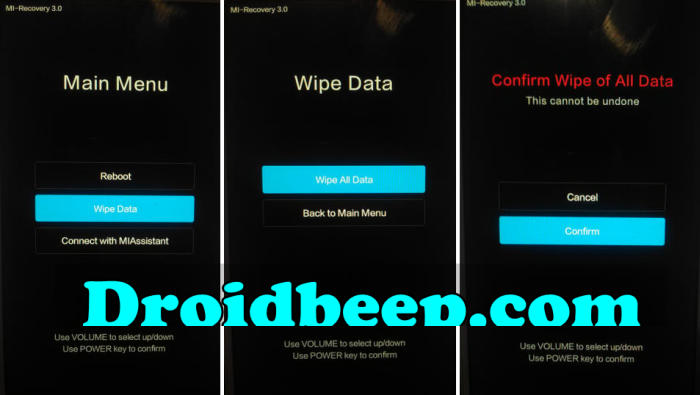 Ensure that the Xiaomi Mi8 SE is powered off.
Simultaneously press and hold the Volume up and Power buttons until the device vibrates and the Mi Recovery screen appears then release all buttons.
From the Android Recovery screen, select Wipe data.
Use the Volume Down button to highlight Wipe All Data and then press the power key to select it.
Press the Volume Down button once to highlight Confirm and press the power key to select it.
The reset will commence and once it's finished, highlight Reboot system now and press the power key.
Wait for your phone to finish rebooting and then set up your phone as a new device.
Reset Screen Lock Xiaomi Mi8 SE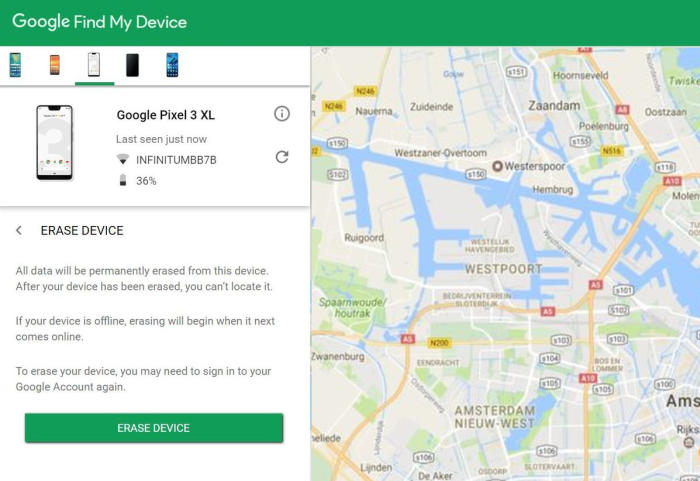 Open Find My Device and then log in with your Google Account and password.
Select the Xiaomi Mi8 SE from the top left hand corner of the menu.
Choose the Erase Data option from the action menu.
Select Erase Device to confirm.
Enter your Google Account password to reset the Xiaomi Mi8 SE.
Factory reset Xiaomi Mi8 SE from Settings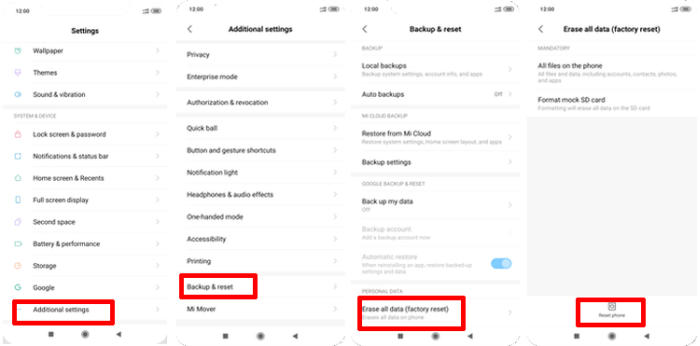 In the Home screen tap Settings.
In the Settings screen, tap Additional settings.
In the Additional settings screen, tap Backup & reset.
In the Backup & reset screen, tap Erase all data (factory reset).
At the bottom of the screen tap the Reset phone option.
After your Xiaomi Mi8 SE reset, you see the Welcome screen and you can set up your device.
Conclusion
Xiaomi Mi8 SE is a mid-range performance oriented smartphone. The excellent battery backup and good storage capacity make the device a perfect buy for consumers. The great pair of cameras are can capture mesmerizing images and good quality videos.
I hope that this article will help you in solving any of the problems you might be facing with the smartphone. Look forward to other articles such as how to bypass google account on Xiaomi Mi8 SE.