Want to customize Vivo V11 or V11 Pro by changing the fonts on the device? For most people out there, finding ways on how to change Vivo fonts can be a hassle. Thankfully, there are some apps come out and help to change the font style on Vivo V11.
The Vivo 11 packs a sizable 64GB of ROM which is good and can be further expanded up to 256GB. This device is powered by the powerful MediaTek Helio P60 chipset with two quad-core Cortex A73 and Cortex A53 processors respectively. This powerful processor coupled with the Mali-G72 MP3 GPU and generous 6GB of RAM can manifest in a compelling performance through any tasks or apps.
This device runs Funtouch OS 4.5 operating system on top of Android 8.0 Oreo, which means you'll have all the benefits of Android, with Vivo's take on OS aesthetics. You can also choose to run any of a variety of Android homescreen replacement apps, but you probably won't feel the need.
Vivo has a ton of great personalization and customization options available on their smartphones, and this is just one of very many that are available. It's a great way to really make your smartphone your own, and make it stand out from everyone else that has a Vivo 11.
As any other Vivo, you can spruce up the UI with Themes. The i Theme Store features both whole themes and just wallpapers, sorted into categories (including free and paid ones).
The Ways to Change Fonts on Vivo V11 And Vivo V11 Pro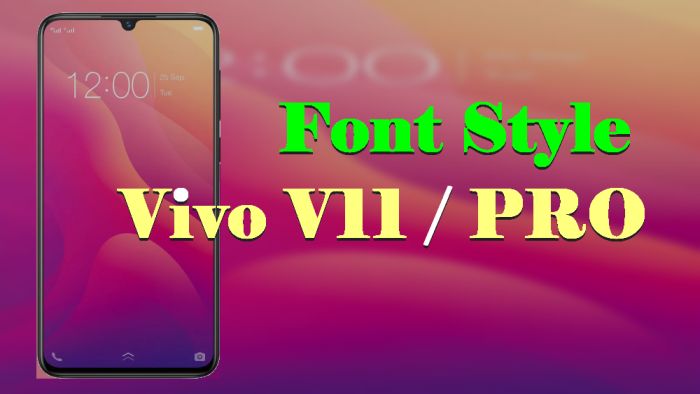 If you're one that likes to do a lot of customization to your smartphone, then changing the font is one of those things you're going to want to do. The option is somewhat hidden in the settings now, so we're here to walk you through how to do just that.
If you want to change the font style, here I will give a tutorial the easiest way to change fonts on Vivo V11. The easiest method for changing fonts in Vivo V11 is to use a font changer application such as zFont.
Change Font via zFont App
Download and Install zFont Font Manager for Vivo V11 / Pro from Google Play Store.
Once the app installed in your V11, open the app and the interface will give you three menu options; emoji, regular font, and colored font.
Choose Cool to see the list of unique fonts. You can choose one preferred font and click Download.
Once download completed, tap Set.
Next, the option Font Changing model will pop up. Choose Vivo Funtouch OS.
i Theme will open, choose Local and afterwards, choose Local Font. Apply the font.
The new font is activated and your Vivo V11 will have better display look.
BottomLine
Now you have successfully changed the font style on your Vivo V11 and Vivo V11 Pro. The above methods are by far the easiest and best possible strategies on how to change Vivo fonts. We suggest you to share these tips on social media so your friends and family can change the font style and font size of their Vivo quickly and easily.