Android Apps can be downloaded from Google Play Store with the help of Wifi or Mobile Data. There are many Errors which one will encounter many times while downloading and installing the App. If you are downloading an app, the process is going on, and all of a sudden, out of nowhere, the download stops and you get the error stating "This app cannot be downloaded due to error 194″?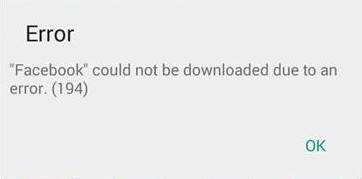 Error 194 is a simple one which can be solved by the following this methods:
The problem is mostly with the Cache and stored Data so clearing the Cache or Data can mostly solve the problem for clearing the cache and Data of Google Play Store you have to follow the steps mentioned below:
First Procedure
Go to your phone's settings
Open "Application manager" or "Apps"
Swipe to "All" column
Scroll down and look for "Google play store"
Open it and tap on "CLEAR DATA"
Now repeat the same procedure with Google play services and Google services framework.
Next Procedure
Remove and re-add your Google account. Here's how to remove your Google account:
Open your phone's settings app
Look for "Accounts" which is under "Personal" subheading
Tap on "Accounts" and then tap on "Google"
Next, tap on your Gmail ID
Now, tap on the three vertical dots on the top right of the screen
Select "Remove account" from the menu
On the pop-up menu tap on "Remove account"
Now your Gmail account is removed from your device.
To re-add that account simply open any Google app and log in using the required information.
After you have completed all these steps you should go back to Google Play Store and try to install the app once again. All these steps can solve errors 495, 927, 923 …etc in Google Play Store along with the Error 194.