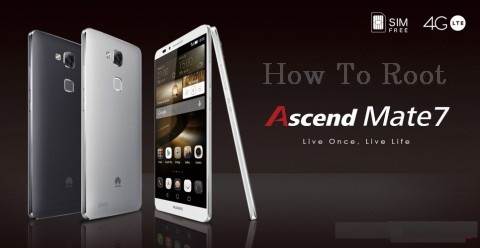 If you have already updated the firmware on your Huawei Mate 7 MT7-L10 through our tutorials or received the updates over-the-air, then its most likely that you no longer have root access on your device. You can now easily root Huawei Mate 7 on Android 5.1.1 Lollipop official software version using our tutorial.
Most Android users are familiar with rooting a device and its numerous benefits but not everyone wants to take the plunge. And that's because of two major reasons. Firstly, most of the rooting methods require you to unlock the bootloader, which voids the device's warranty and that's what makes people apprehensive about rooting. Secondly, the rooting process can get too complicated at times and if things go wrong, your device is as good as a paper weight.
Most of the times, one unlocks the bootloader of a device while rooting because of the fact that he/she wants to install a custom recovery, which is mandatory for flashing custom ROMs on a device. But if you just want root access on the phone and want to use it with the stock ROM, there might be a chance that you can do that without going through all that trouble.
KingRoot is well known for its capability to root a large number of Android phones and tablet devices without PC. It is a go-to rooting tool for those who want to root their Android devices with just one click and the rest of the task is automatically managed by the KingRoot app and their cloud-based servers, where all the possible exploits are stored.
Warning: Warranty may be void if you root your device. We, at Droidbeep, won't be liable for any damage to your device whatsoever. We won't be held responsible if you brick your device. Reader's discretion is advised.
Root Huawei Mate 7 MT7-L10 Using Kingroot
Enter your phone's browser: kingroot.net.

Install Kingroot. This can be done through.."Unknown Sources" under Menu -> Settings -> Applications).

If your phone is unrooted, you can see the prompt saying that "Root access is unavailable". Then click the button "START ROOT".
It will take some time to root the phone.
When rooting, you can view the progress. When it is done, you will see the big green tick icon.

You have now succesfully Rooted your Mate 7 MT7-L10. Check out for an application in your application drawer with the name as KingUser.
You can check if you have successfully rooted your device or not by installing Root Checker application available on the Play Store.