Luckily, there's a utility that can simplify the whole process to get superuser access and unlock bootloader. It's called Multi Tool Moto E, developed by an XDA member – magdeoz.
WARNING!!
– Unlocking the Bootloader will void your warranty of your phone.
– Make sure the device is fully charged, anything beyond the 80% mark is good.
– Don't forget to backup the Moto E data. Even though it is unlikely to lose something by applying this guide, the best will be to save everything that's there on the internal storage memory of your phone. Else you might end up in losing your contacts, messages, call logs, market apps, personal info and accounts and everything else it's important to you.
Simple procedure to Unlocking bootloader Moto E
Enable "Developer options" by tapping 5 or 6 times on the Build number in Settings >> About phone. Hit back once and choose Developer options; check the box for USB debugging.
Double click moto_E.bat
Enter option 1 to unlock bootloader
This will reboot your device into bootloader, retrieve your key, and Copy the entire code, except (bootloader), no spaces.
To copy this code just right click and select Mark


Select this unclock code and click "Enter" to copy this entire code


and Paste the code to Notepad and remove space


Next step Now move on to the Motorola Unlocking Bootloader page. You need to paste this code on 6th step. And click the "Can my device be unlocked?".
Press the "request unlock key" button and select "I agree".
A unique code (20 character alpha numeric code) will be sent to your email.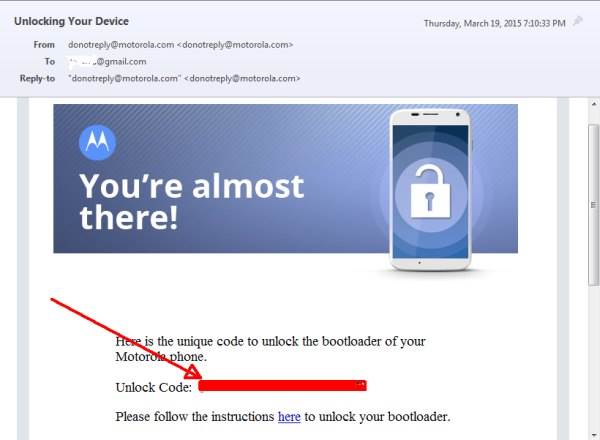 Enter the unique code to unlock the bootloader of your Motorola Moto E.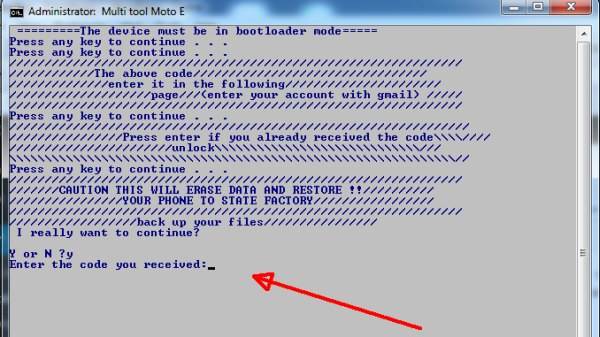 Congratulations, you have successfully completed our step by step guide. So, now you know how to unlock the bootloader of your Motorola Moto E. Therefore, from now on you can consider in rooting your phone, in installing a custom recovery image, a custom ROM firmware, a custom kernel and so on.