The P8 Lite is an expensive smartphone and I'm sure you don't want to try out something risky if it's not worth the hassle. If you're confused on whether you should flash custom ROMs on your Huawei P8 Lite, then you should look at the following factors. Even though the Huawei P8 Lite features excellent hardware and you shouldn't get any lag, I believe you can make the device a lot more faster as these ROMs come with several performance and speed tweaks.
Another cool ROM for the Huawei P8 Lite is the OMNI ROM and it brings several new features such as OmniSwitch and custom quick settings tiles. It brings various features such as Immersive mode, customizable quick settings, navigation bar options, Init.d tweaks, Active Display, ListView animations and screenshot quick trash.
One known bug in the ROM is that some video may not be properly loaded, please use MX Player to fix this issue..
Supported Devices : ALE-L02, ALE-L21 & ALE-L23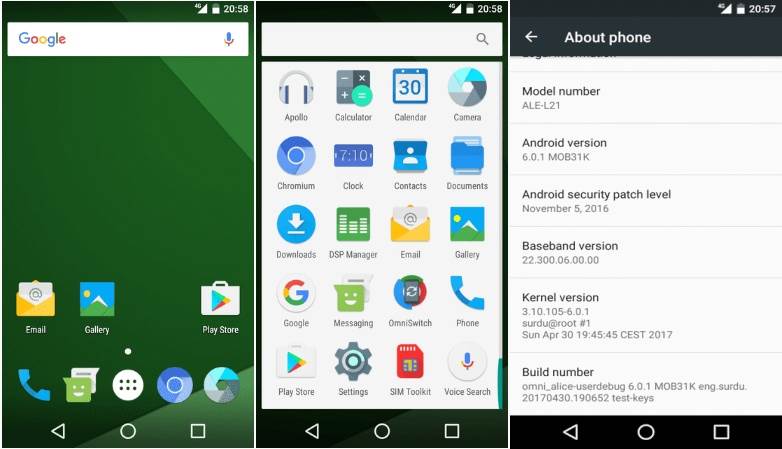 How To Install OMNI ROM Android 6.0.1 On Huawei P8 Lite
Download OMNI ROM Android 6.0.1 For Huawei P8 Lite and Google Apps ( check : ARM64, 6.0, nano ) on to your PC.
Connect Huawei P8 Lite to the computer
Place the OMNI ROM into the phone's storage memory.
Enter To TWRP mode
Once entering the TWRP settings menu, clear the phone's memory (full) by selecting 'Wipe' option. Once done, select – 'Swipe to Factory Reset' perform factory reset
Return to TWRP settings and tap 'Install' by the selecting .Zip file in the phone's memory downloaded from PC
Come back to TWRP menu setting to approve the installation by tapping 'Swipe to Confirm Flash'
Flashing of the custom ROM begins and after few minutes, a message 'Successful' appears on the screen, thus completing installation.
Custom ROMs are a great way to make the most out of your Android smartphone or tablet and if you feel that the interface on your P8 Lite is outdated, then you should definitely try flashing a custom ROM. Not only will you get a better UI, but you'll also get cool apps and features along with performance and battery tweaks. After reading all the tips, make sure that you flash the ROM that fits your needs the most.