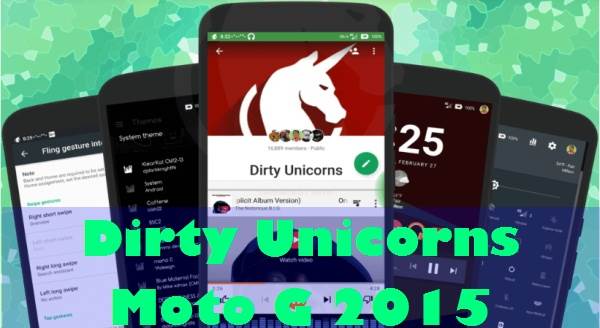 The MOTO G 2015 is a midrange smartphone and it's gained a lot of popularity among Android users. So it's only natural that a lot of people would want to install a custom ROM for MOTO G 2015 and enjoy a whole new experience. Unfortunately, the development seen for the MOTO G 2015 hasn't taken off so there are not a lot of options available for the smartphone.
Dirty Unicorns is perhaps the best-known custom ROM on Android. I have personally used this ROM on multiple devices and have nothing but the utmost respect for the developers. So it is only natural that a lot of people would want the most popular custom ROM on Android to be ported for their Moto G 2015.
Unfortunately, there is no official support for the MOTO G 2015 from the developers of Dirty Unicorns. Thankfully for us, we can use an unofficial port of the ROM on the smartphone. The room comes with all the features you are accustomed to and works really well with the hardware.
Obviously, there are some bugs with the builds because it is ultimately an unofficial port. But, if you can ignore the tiny bugs, this is one of the best ROMs available for Moto G Osprey at the moment.
How To Install Dirty Unicorns v10.3 Marshmallow ROM in Moto G 2015 OSPREY
Turn off / Switch your phone
Press and hold Press Volume UP + Volume Down + Power Key at the same time to boot into Recovery mode.
Do not forget to perform a nandroid backup. Goto backup option in TWRP and select all the partitions including System, Data, Boot, Recovery, EFS and swipe right to backup.
After performing the ROM backup, go back to the TWRP main menu and tap the WIPE button.
Next, swipe to Factory Reset. Wait for the wiping process to complete.
Next, Goto TWRP main menu & goto Install option.
Locate the Dirty Unicorns ROM downloaded zip file & tap on it. Now swipe to Install the ROM.
Once the installation process is finished successfully, select Reboot System