Reset Huawei Mate 10 Pro – Restoring a smartphone back to its factory settings is a great way to tackle speed and performance issues that have built up on the system over time. If you find your Huawei Mate 10 Pro is working slower than expected, it may be time to consider a factory reset. In this tutorial, we'll see how to reset Huawei Mate 10 Pro.
The Huawei Mate 10 Pro flaunts a 6-inch bezel-less display having a screen resolution of 1080 x 2160 pixels along with a pixel density of 402 ppi. It provides a crisp and sharp view with stunning colour reproduction. The 18:9 aspect ratio adds sharpness to the content while the Corning Gorilla Glass protects the display from any physical glitch.
Under the hood, the device packs a HiSilicon KIRIN 970 chipset on which, Octa-Core processor runs at a speed of 2.4 GHz. It is further combines with ARM Mali G72MP12 and a 4GB ram that enhance the gaming experience.
You have bought the Huawei Mate 10 Pro but then you might experience some slowdowns in performance from the smartphone. It might even stop working completely. If this happens, it's time to consider resetting the device. However, you first need to learn how to reset the Huawei Mate 10 Pro.
Hard reset Huawei Mate 10 Pro from Recovery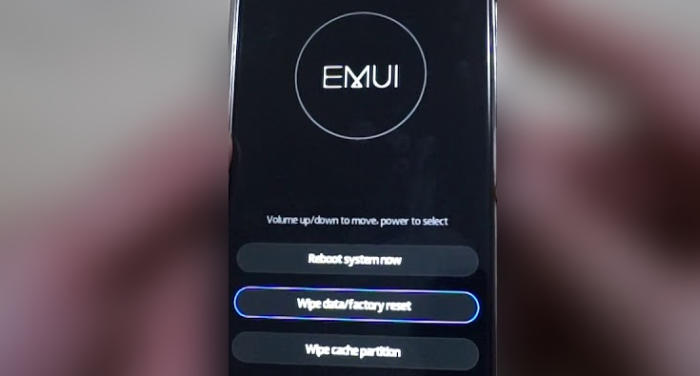 Shut down your Huawei Mate 10 Pro completely by pressing the Power button.
Push "Volume Up" and "Power" button for a couple of seconds.
Let go of all keys when Huawei eRecovery Mode shows up.
Choose "Wipe data/Factory reset".
You need to confirm your action once more by choosing "Wipe data"
Finally, choose "Reboot system".
Reset Passcode or Pattern Lock Huawei Mate 10 Pro
Open Find My Device and then log in with your Google Account and password.
Select the Huawei Mate 10 Pro from the top left hand corner of the menu.
Choose the Erase option from the action menu.
Select Erase Device to confirm.
Enter your Google Account password to reset the Huawei Mate 10 Pro.
Factory reset Huawei Mate 10 Pro from Settings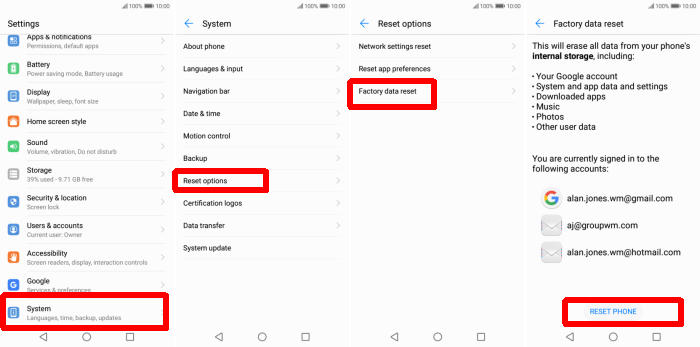 Go to Menu and choose Setting.
Tap System.
Move again and tap Reset.
After that, choose Factory data reset.
Confirm it by tap the RESET PHONE button.
When it's done, the Huawei Mate 10 Pro will reboot.
Final Thought
The Huawei Mate 10 Pro is a power packed smartphone which ends up fulfilling almost all the needs that a user may demand. It has an amazing display to start off with, which is complemented by a good performance that makes the multitasking and gaming experience better. The battery backup is also ample that provides a huge power for the day to day activity.
By the way, what method did you use? Let me know in the comments below. Also, feel free to reach out for any doubts or queries. Look forward to other articles such as how to screenshot in Huawei Mate 10 Pro.