If you're having a lot of problems with your Oppo RX17 Pro, performing a factory reset may be the solution. In this article, you will find a step by step guide to reset Oppo RX17 Pro.
Oppo RX17 Pro is equipped with a Snapdragon 710 chipset and an Octa-Core processor that runs at a clock speed of 2.2 GHz. It has an Adreno 616 GPU and a 6GB ram that handles the overall functioning maintaining the flow of multiple apps, games and background tasks.
Oppo RX17 Pro comes with a waterdrop display that stands 6.4inch tall. It bears an AMOLED display type having a screen resolution of 1080 x 2340 pixels and a pixel density of 403 PPI. There is an aspect ratio of 19:9 that adds style to the display.
3 Methods to Reset Oppo RX17 Pro
You'll definitely need to clean your Oppo RX17 Pro before selling or passing it to someone. If you have issues with an unresponsive screen or an app isn't working properly, this might also be a way out. However, there are some other troubleshooting methods to try, too.
[box type="note" align="" class="" width=""]All your Oppo RX17 Pro data will be deleted after resetting your phone, which is why you should make a complete backup of your phone.[/box]
Reset passcode or pattern lock Oppo RX17 Pro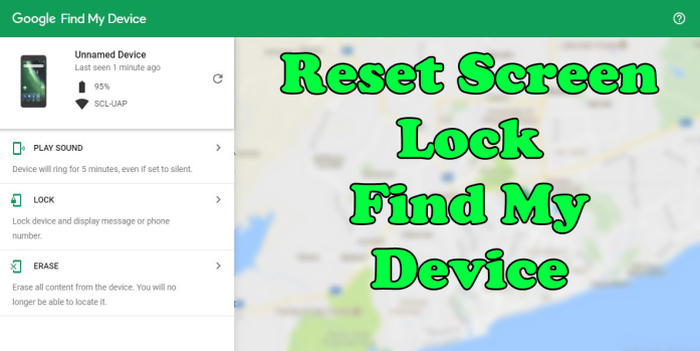 Log into https://www.google.com/android/find with your Google Account ID and password.
Select the Oppo RX17 Pro from the menu on the left.
Select the Erase Device option from below the device information.
Select the Erase button on the popup.
Enter your Google Account password to confirm and send the task to your Oppo RX17 Pro.
Hard reset Oppo RX17 Pro from Recovery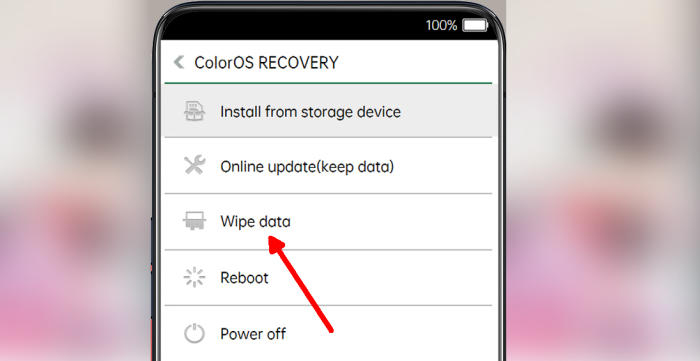 Ensure that the Oppo RX17 Pro is powered off.
Simultaneously press and hold the Volume Down and Power buttons until the device vibrates and the ColorOS Recovery screen appears then release all buttons.
From the ColorOS Recovery screen, select Wipe data.
Touch Wipe data (Keep SMS, Contacts and Photos) and then confirm by clicking OK.
The reset will commence and once it's finished, tap Reboot.
Wait for your phone to finish rebooting and then set up your Oppo RX17 Pro as a new device.
Factory reset Oppo RX17 Pro via Settings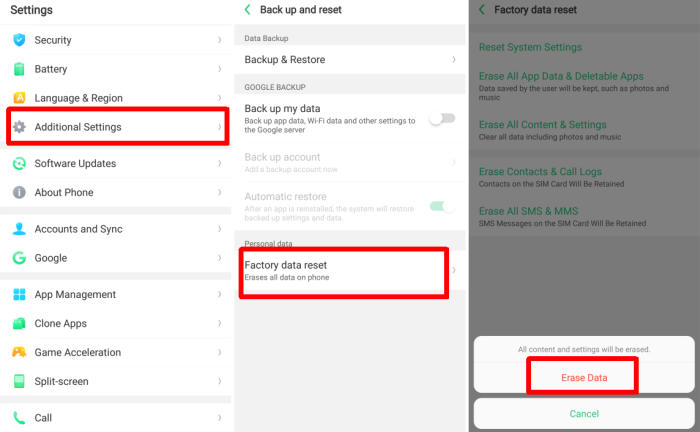 Go into the Settings.
Tap Additional settings.
Tap on Backup & reset.
Tap on Erase all data (factory data reset).
Confirm you understand that all data will be erased by tapping on Erase Data.
Your Oppo RX17 Pro will restart and begin the factory data reset.
Bottomline
The Oppo RX17 Pro is another member of the Oppo series, featuring a stellar combination of great looks and zippy performance. It's loaded with a bunch of Oppo's useful apps, which add to the Android experience. Justifying the manufacturer's reputation, the phone also poses a powerful rear snapper, making it the complete device.
If you have any thoughts you want to share on the Oppo RX17 Pro, please don't hesitate to share them down below!. Check out some tips and tricks such as how to screenshot in Oppo RX17 Pro, we will publish it soon.