If you think your Vivo V11 Pro is not working as it should, or you are getting an error message which is worrying about it, it may be time to reset your phone.
The Vivo V11 Pro sports a 6.41inch FHD+ display with a resolution of 1080 x 2340 pixels resulting in an impressive pixel density of 402 PPI. The Vivo V11 Pro is equipped with 12MP + 5MP autofocus primary camera with Dual rear camera LED flash and CMOS image sensor. It comes with a 25MP front camera which is a treat for the selfie lovers.
This device gets all its strength from a 2.2 GHz Octa-Core processor which is seated on a Snapdragon 660 chipset and paired with 6GB of RAM for great multitasking and an Adreno 512 GPU for a good gaming experience. Android 8.1 Oreo works as the OS on this phone.
If your Android smartphone appears that the phone storage is full, you can remove everything present in your Vivo V11 Pro by resetting it and then you can install the apps you need. Because that will erase everything so the storage issue will be resolved too.
[box type="success" align="" class="" width=""]Before you perform a reset, be sure to back up your personal data, so you don't lose it all. Get a start fresh by performing a factory and hard reset.[/box]
Reset passcode or pattern lock Vivo V11 Pro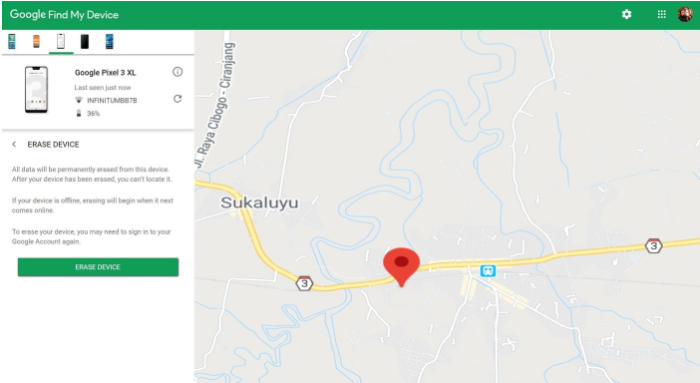 Log into Find My Device with your Google Account (email) and password.
Select the Vivo V11 Pro from the menu on the left.
Select the Erase option from below the device information.
Select the Erase Device button on the popup.
Enter your Google Account password to confirm and send the task to your Vivo V11 Pro.
Factory Reset Vivo V11 Pro from Settings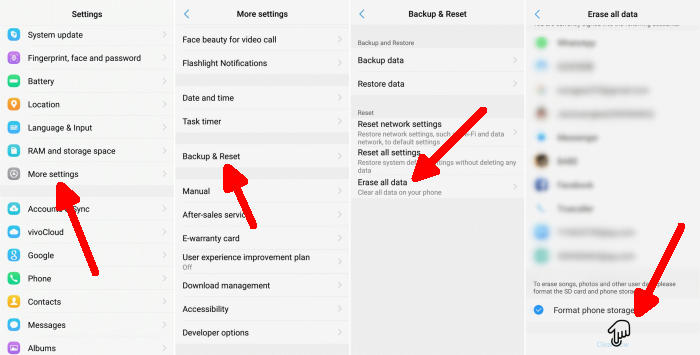 Go into the Settings.
Tap More settings.
Tap on Backup & reset.
Tap on Erase all data.
Confirm you understand that all data will be erased by tapping on Format Phone Storage.
Next tap Clear Now.
Your Vivo V11 Pro will restart and begin the factory data reset.
Hard Reset Vivo V11 Pro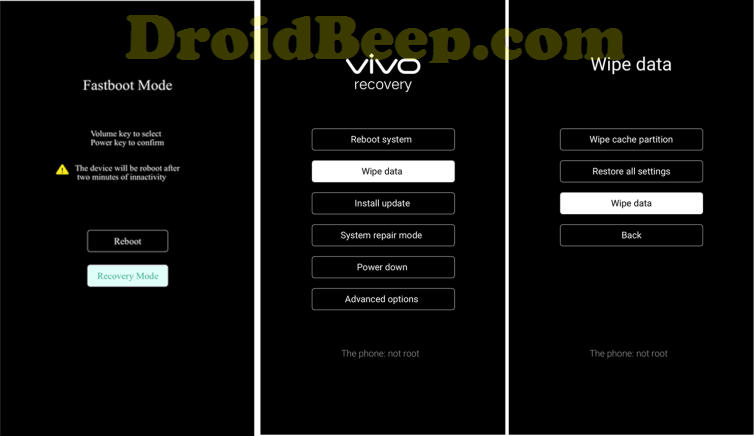 Shut down your Vivo V11 Pro completely by pressing the Power button.
Simultaneously press and hold the Volume UP and Power buttons until the device vibrates and the Vivo Recovery screen appears then release all buttons.
Select Recovery mode by pressing Volume down button and enter it by pressing Power button.
From the Vivo Recovery screen, select Wipe data.
Touch Wipe data and then confirm by clicking OK.
The reset will commence and once it's finished, tap Reboot system.
Wait for your phone to finish rebooting and then set up your Vivo V11 Pro as a new device.
Final Thought
The Vivo V11 Pro is a powerful smartphone that delivers smooth performance. The camera quality it offers allows to take still pictures and selfies even at low light conditions. The configuration it offers is currently available on other phones even at a much lower price, but it would be a great option for a brilliant camera and the performance it provides exceeds satisfaction.
Most of the problems that the Vivo V11 Pro has, although not listed above, can usually be fixed by reset. For other tips and tricks such as how to change font style in Vivo V11 Pro, we will publish it soon.