There are several reasons why you might need to reset your Vivo V15. You installed too many applications and just need to delete all of them. You may also be selling your smartphone or fixing some other problem. In this article, you will find a step by step guide to reset Vivo V15.
The Vivo V15 comes with an Octa-Core processor having a clock speed of 2.1 GHz and is seated upon the Helio P70 chipset. It is assisted by the ARM Mali-G72MP3 GPU and a 6GB RAM that keep the smooth operation. The smartphone features a 6.53 inches IPS LCD display having a screen resolution of 1080 x 2340 pixels and a density of 395 PPI.
There are many reasons why you might need to factory reset your Vivo V15. Whether your device is lagging or you are simply preparing to sell it, factory reset is one of the best ways to restore your phone to its perfect factory condition. Let's go over the two ways to perform a factory data reset. You can do a hard reset or factory reset.
[box type="success" align="" class="" width=""]All data saved on your device is deleted when you perform a factory reset. All apps are uninstalled. Back up all important files, either on the Web or with an external storage device, before resetting the phone.[/box]
Hard Reset Vivo V15 / Pro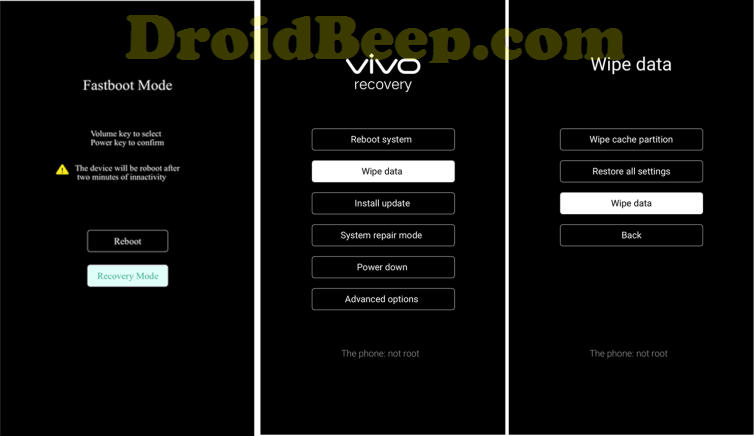 For users who have a stuck problem at the Vivo logo, you can reset it through recovery mode.
However, Vivo V15 is equipped with Factory Reset Protection (FRP) which requires you to log back in with your Google account after the reset. Therefore, make sure you still remember your Google account before following this reset procedure.
Shut down your Vivo V15 completely by pressing the Power button.
Simultaneously press and hold the Volume UP and Power buttons until the device vibrates and the Vivo Recovery screen appears then release all buttons.
Select Recovery mode by pressing Volume down button and enter it by pressing Power button.
From the Vivo Recovery screen, select Wipe data.
Touch Wipe data and then confirm by clicking OK.
The reset will commence and once it's finished, tap Reboot system.
Wait for your phone to finish rebooting and then set up your Vivo V15 as a new device.
It may take longer to finish booting up, just wait for it and don't take any action until it boots completely. Now connect to the internet and sign in to your Google account to continue.
Factory Reset Vivo V15 / Pro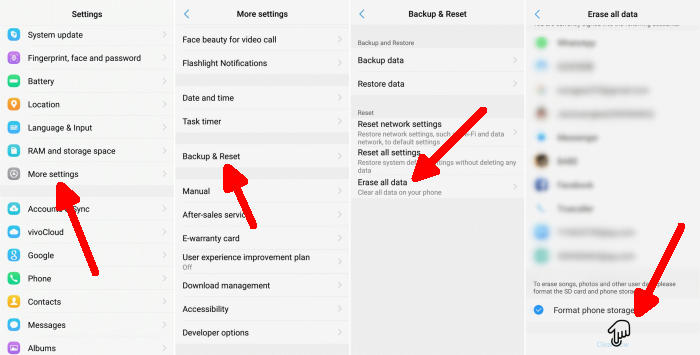 In the Home screen tap Settings.
In the Settings screen, tap More settings.
In the More settings screen, tap Backup & reset.
In the Backup & reset screen, tap Erase all data.
At the bottom of the screen tap the Format Phone Storage option.
Finally click Clear Now.
After your Vivo V15 reset, you see the Welcome screen and you can set up your phone.
Reset Screen Lock Vivo V15 / Pro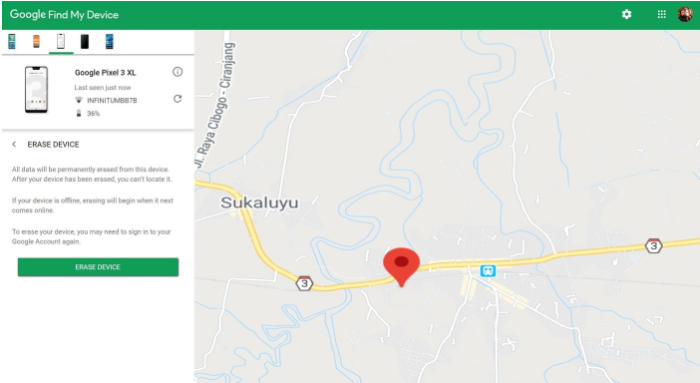 Open Find My Device and then log in with your Google Account and password.
Select the Vivo V15 from the top left hand corner of the menu.
Choose the Erase option from the action menu.
Select Erase Device to confirm.
Enter your Google Account password to reset the Vivo V15.
If you are unable to perform the factory and hard reset successfully or have other problems, just take your phone to a service center for assistance. In addition, you will be asked to provide proof of purchase before using the service.
Conclusion
The Vivo V15 is a very affordable smartphone but has decent quality features. It has a very good set of cameras on both sides that can click good photos and videos. The performance is decent and will not displease the users at all. It also offers excellent performance with a healthy power supply.
I hope that this article will help you in solving any of the problems you might be facing with the smartphone. Check out some tips and tricks such as how to change storage settings on Vivo V15.