The Huawei P8Lite was launched by Huawei 2 years back and it was a major flagship of Huawei. The device was running Android 5.0 Lollipop at the time of the release and as per the announcement, the Huawei P8 Lite is now getting an Unofficial software update to Android 8.0 Oreo.
The Android 8.0 update introduces visually-different Quick Settings and Settings areas, Picture in Picture mode, and auto-fill, along with many more features and enhancements. Things are not quite as different as with the jump from KitKat to Lollipop but there are still quite a few new features in Android 8.0 Oreo.
The initial build of the AOSP based custom ROM for P8 Lite was developed by surdu_petru and it is currently in the development phase. However, the ROM is stable now to be used as a daily driver and essential features like WiFi, GPS and Audio are working without issues.
Since the ROM is currently in the beginning stages, some of the Android Oreo features might not work properly and you might also encounter a few bugs here and there. If you want to test the latest version of Android Oreo 8.0 on your P8 Lite, then you can follow the below instructions to install it manually on your device.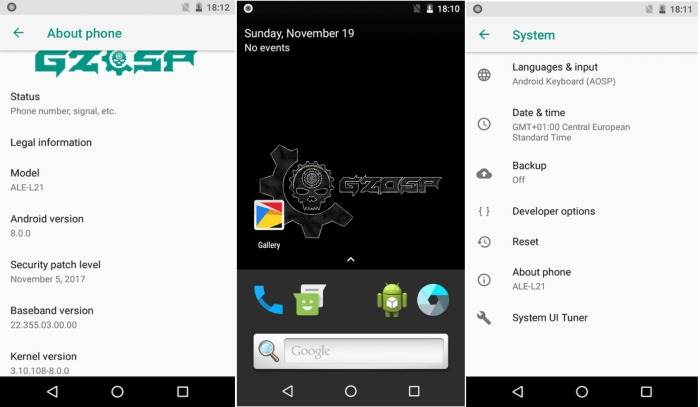 You will need to have an Unlocked Bootloader on your Huawei P8 Lite and TWRP custom recovery should be installed on your device and your Huawei P8 Lite should have EMUI 4.1 pre-installed to proceed with the installation
INSTALL ANDROID 8.0 OREO ROM ON Huawei P8 Lite
Now, switch off your Huawei P8 Lite and hold Volume Up + Power button in order to boot into TWRP recovery.
Once you are in TWRP recovery, wipe data and factory reset your device
Once completed with the factory reset, select the downloaded zip file of the GZOSP ROM and swipe to install the ROM.
Once the process of installing the ROM is finished on your device, reboot your device normally
Once the device is booted up, you will have the latest version of Android, Android 8.0 Oreo-based on GZOSP ROM for the Huawei P8 Lite.
You probably already know this if you're here, but the first boot can take a while. Considering this is just an alpha build, the first boot might not even happen for you and you should be ready for that possibility as well. Nevertheless, wait at least ten minutes and if it still doesn't boot, reboot your device to recovery mode as you did previously. In the recovery, select Restore and then select your backup. Swipe at the bottom to restore and then tap Reboot system once the process is complete.