There are a variety of reasons why you may need to factory reset your Samsung A10. You installed too many apps and just need to start clean. You may also be selling your smartphone or fixing some other problem. Here's how to factory reset your Galaxy A10.
Samsung Galaxy A10 comes with a 6.2 Inch IPS LCD display having a screen resolution of 720 x 1520 pixels along with a pixel density of 271 PPI. It has an aspect ratio of 19:9 which adds style to the display.
In terms of performance, the device has a 1.6 GHz Octa-Core processor along with an Exynos 7 Octa 7884 chipset that handles the overall functions of the device. It is assisted by an ARM Mali-G71 and a 2GB RAM, that provide great performance together in terms of gaming or multitasking.
There are various reasons why we need to factory reset Samsung A10. Whether your phone is lagging or you are just getting ready to sell it, factory reset is one of the best ways to restore your phone to its perfect factory condition. Let's discuss two ways to factory reset. You can do a soft reset or a hard reset.
Restoring your Samsung Galaxy A10 to factory settings will delete all data from the device. Make sure to back up any important files such as contacts and images.
Hard Reset Samsung A10 from Recovery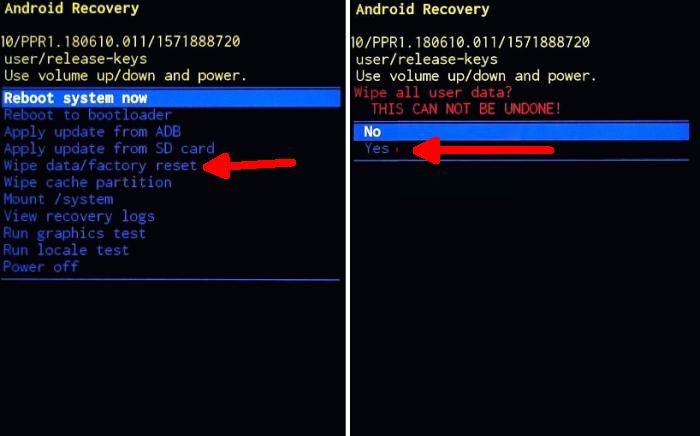 Shut down your Samsung Galaxy A10 completely by pressing the Power button.
Press and hold the Power key and Volume Up button at the same time.
Release them when you see the Samsung logo.
Then you will see the Android system recovery menu.
Scroll to wipe data / factory reset by pressing the Volume down button.
Press the Power button.
Scroll to Yes by pressing the Volume down button.
Press the Power button.
The phone will now wipe all contents.
Bypass Lock Screen Pin / Pattern / Password Samsung A10
If you forgot your Samsung Galaxy A10 lock screen fingerprint, pin, pattern and password, but you have setting up Samsung account or Google account before, you can easily to bypass lock screen remotely by Find My Mobile / Device service on computer.
With both of the following options however, the device needs to be turned on, and it needs some kind of network connection; whether it's connected to a Wi-Fi network or mobile data.
Reset Lock Screen with Google Find My Device
Visit Find My Device and then sign in with your Google email and password.
Select the Samsung Galaxy A10 from the top left hand corner of the menu.
Choose the "Erase Data" option from the action menu.
Select 'Erase Device' to confirm.
Enter your Google Account password to reset the phone.
Unlock Screen use Samsung Find My Mobile
Open Find My Mobile and then sign in with your Samsung Account ID and password.
Choose the Samsung Galaxy A10 from the menu on the left.
Select the 'Unlock' option from below the device information.
Choose the 'Unlock' button on the popup.
Enter your Samsung Account password to confirm and send the task to your phone.
Factory Reset Samsung A10 from Settings
Android Pie
Slide your finger downwards starting from the top of the screen.
Touch the ˊSettingsˋ icon.
Press 'General management'.
Touch ˊResetˋ.
Press 'Factory data reset'.
Press "RESET".
Tap "DELETE ALL". Wait a moment while the factory default settings are restored.
Follow the instructions on the screen to set up your Galaxy A10 and prepare it for use.
Android 10
Head into your ˊSettingsˋ and scroll down the page to ˊGeneral managementˋ.
Tap on 'Reset'.
Press 'Factory data reset'.
Scroll down the page and select ˊResetˋ.
This is the final step, so be sure that you want to go through with it. If you are, then tap ˊDELETE ALLˋ.
The Galaxy A10 will reset and reboot.
Conclusion
The Galaxy A10 is a powerful phone that provides seamless performance. Moreover, the device is loaded with some spectacular features, which takes your smartphone user experience to the next level. The configuration it offers is currently available in other phones even at much low price tag, but yet it would be a great choice for brilliant cameras and the performance it gives are beyond satisfaction.
Have you encountered any other problems with these phones? Tell us about them. Also, if you have solutions other could benefit from, post them. Check out some tips and tricks such as how to lock apps in Samsung Galaxy A10, we will publish it soon.