How To Wipe Vivo X9s Screen Lock, Hard And Factory Reset
If you are facing issues such as abrupt reboots, frequent freezing and performance deterioration over time, you can reset Vivo X9s to declutter your smartphone from useless files and apps.
The Vivo X9s is powered by an Octa-Core processor setup 4x 1.8 GHz ARM Cortex A72 + 4x 1.4 GHz ARM Cortex A53 seated on Snapdragon 652 MSM8976 along with a 4GB RAM. The graphics are powered by Adreno 510. It runs on the latest version of Android operating system Android 7.1.1 Nougat.
The Vivo X9s has a stunning Super AMOLED bezel-less display with a notch over the 5.5 Inch screen. The device has got an amazing resolution of 1080 x 1920 pixels with a density of 401 PPI. The Vivo X9s is provided with 3320 mAh Li-ion battery, which gives a decent battery backup to the users to perform all the tasks.
If you have come across major software problems on your Vivo X9s, then you're not the only one. From slowness to scrolling to significant battery drain, we've all done it. The thing to remember is that you can always reset your phone to resolve a problem.
What to do before resetting your Android
Reset will require a minimum battery level of 25%.
Once the hard reset is done, the phone will ask to enter the Google account and password that was previously linked with the device. Therefore, you must know the google email and the password.
It is important to remember to decrypt your microSD card before a Factory Data Reset. The data on your SD card will not be able to be read or decrypted after a reset.
[/box]
Hard Reset Vivo X9s via Recovery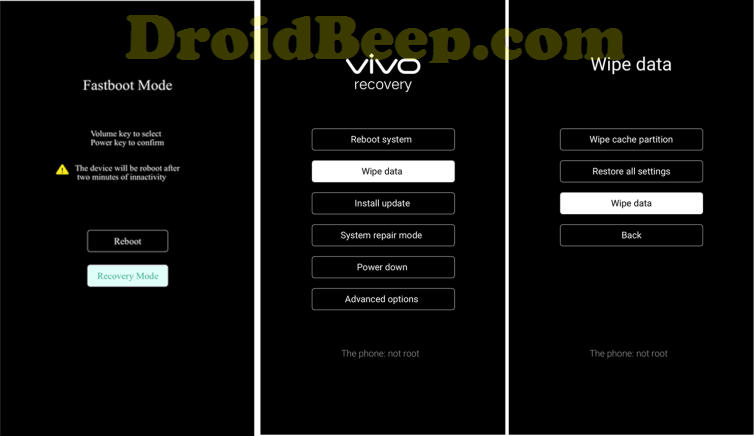 Ensure that the Vivo X9s is powered off.
Press and hold the Volume UP and Power buttons at the same time.
Let all buttons go when the device shows a Vivo logo.
Wait for this screen to change automatically to Fastboot mode.
Then select Recovery Mode.
After that tap Wipe Data.
Next tap Wipe data.
The screen will display "Wipe Data? operation can't be reversed". Once done, tap OK.
Select the Reboot system option from the Vivo Recovery menu.
Factory Reset Vivo X9s from Settings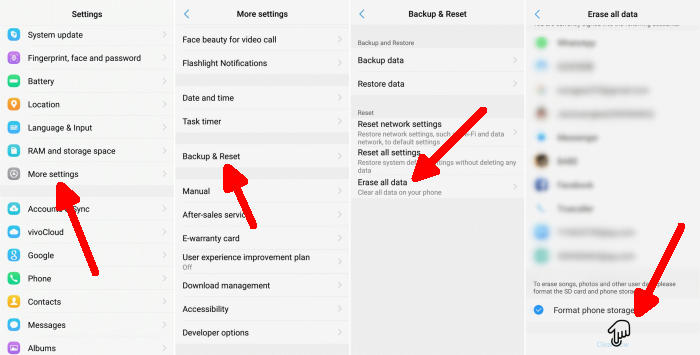 In the Home screen tap Settings.
In the Settings screen, tap More settings.
In the More settings screen, tap Backup & reset.
In the Backup & reset screen, tap Erase all data.
At the bottom of the screen tap the Format Phone Storage option.
Finally click Clear Now.
After your Vivo X9s reset, you see the Welcome screen and you can set up your phone.
Reset passcode or pattern lock Vivo X9s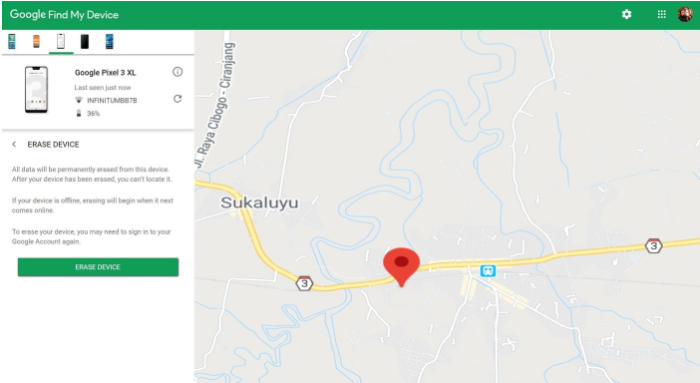 Log into https://www.google.com/android/find with your Google Account ID and password.
Select the Vivo X9s from the menu on the left.
Select the Erase option from below the device information.
Select the Erase Device button on the popup.
Enter your Google Account password to confirm and send the task to your Vivo X9s.
Wrapping Up
Vivo has always given preference to quality along with better pricing. The Vivo X9s is an amazing smartphone with a premium look. The smartphone is designed with a great display, cameras and storage capacity. It features quick charging support.so that you can refill the battery at a lightning fast speed.
Despite some problems here and there, the Vivo X9s is still a great phone. Do you have any problems that you didn't see above? Leave a comment below, and we'll troubleshoot the issue with you. Look forward to other articles such as how to update Vivo X9s which will be coming soon.