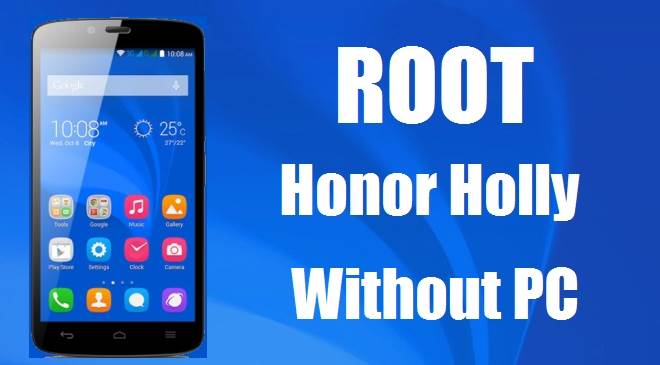 We have the easiest guide to Root your Huwaei Honor holly. Rooting the Honor holly will bring many privileges like removing the useless apps also known as bloatware, overclocking the processor, installing root apps and much more, in the future there will be custom roms available for this device Too!
Rooting is probably one of the first things an average user wants to do after getting an Android device. With root access to Huawei Honor Holly, the Android experience extends to a whole new level, from flashing custom ROMS to installing the latest mods. This tutorial will guide you on how you can root a Huawei Honor Holly device to unleash a wide range of features and capabilities.
There are many one-click root methods available to try out, using which you can easily get root access on your device without breaking a sweat. This methods do not require unlocking the bootloader and the rooting process can be reversed, which makes them completely safe to try.
KingRoot is the easiest and fastest root tool for almost all the Android devices as well as unrooting. KingRoot APK, along with any other one-click root tools, are all exploit-based. It means that your device is being rooted by them exploit certain system vulnerabilities.
Disclaimer
Rooting your phone will void your warranty. We at Droidbeep are not responsible for anything happens to your phone. We only provide the guide, so if you want to do it perform at your own risk.
This method can be accomplished without a PC and You will need to maintain a stable Internet connection throughout the process. and make sure your phone's battery has at least 50 percent full.
Root Huawei Honor Holly Using Kingroot
Kingroot is a well known root app , It is one of the most trusted and most used app which is Also popular for rooting any kind of smartphone. Now with Kingroot app you can easily root android phone and the best thing is that this is Without computer rooting method
Enter your phone's browser: kingroot.net.

Install Kingroot. This can be done through.."Unknown Sources" under Menu -> Settings -> Applications).

If your phone is unrooted, you can see the prompt saying that "Root access is unavailable". Then click the button "START ROOT".
It will take some time to root the phone.
When rooting, you can view the progress. When it is done, you will see the big green tick icon.

You have now succesfully Rooted your Huawei Honor Holly. Check out for an application in your application drawer with the name as KingUser.
Once you have successfully rooted your Huawei Honor Holly, you can install most of the apps, which require root access, from the Google Play Store. You can also install a recovery and various ROMS/mods for your Android device. Make sure that you follow all the instructions correctly and you can shoot any questions below.
If you successfully rooted your Honor Holly then, please drop a comment below!
If you have any errors/issues do let us know, we will help you.