A factory reset can help resolve issues with your Huawei nova 5 Pro if it's crashing or freezing, running slowly or suffering from problems you can't identify. So, today, we will explore how we can perform a factory reset of Huawei nova 5 Pro.
The Huawei nova 5 Pro flaunts with a 6.39-inch Amoled display having a resolution of 1080 x 2340 pixels. The high pixel density of 403 PPI gives an enticing visional experience. The 19.5:9 aspect ratio gives it a trendy look to hold.
Under the hood, it packs an Octa-Core processor setup (2xCortex A76 2.6 GHz +2xCortex A76 1.92 GHz +4 Cortex A55 1.8 GHz), which is accompanied by a 8GB RAM. The combination of these help to ease the performance in multitasking and gaming. The smartphone is based on HiSilicon KIRIN 980 chipset. The whole operation is done by Android 9.0.
If your smartphone has frozen, slower than usual or the battery is draining, resetting the Huawei nova 5 Pro is the first line of defense to solve this problem. So, if you run into one of these common issues, you'll now know how to deal with it straight away.
There are two types of reset that we are going to share with you today, factory reset and hard reset. Both types of reset apply to the Huawei nova 5 Pro.
Hard reset Huawei nova 5 Pro via Recovery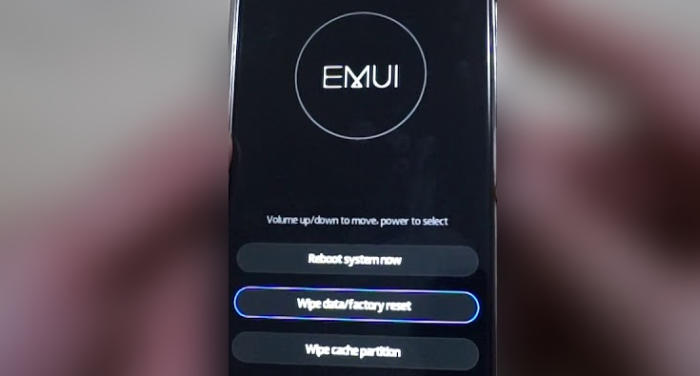 Turn off your Huawei nova 5 Pro and wait a few seconds.
Simultaneously press and hold the Volume UP and Power buttons until the device vibrates and the Huawei eRecovery screen appears then release all buttons.
From the eRecovery screen, select Wipe data/Factory reset.
Touch Wipe data to confirm the whole operation.
The reset will commence and once it's finished, tap Reboot system.
Wait for your phone to finish rebooting and then set up your Huawei nova 5 Pro as a new device.
Factory reset Huawei nova 5 Pro from Settings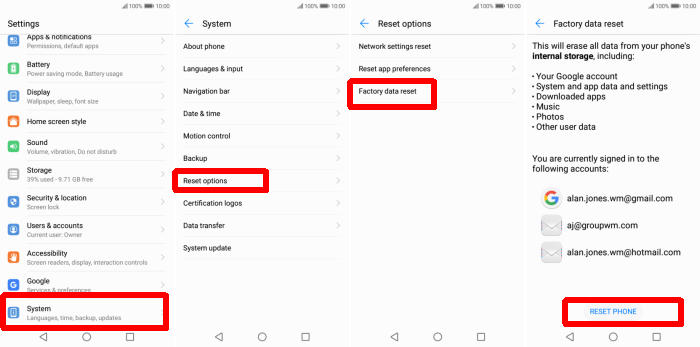 In the Home screen tap Settings.
In the Settings screen, tap System.
In the System screen, tap Reset.
In the Reset screen, tap Factory data reset.
At the bottom of the screen tap the RESET PHONE option.
If prompted, enter your device PIN/password/pattern. Touch NEXT.
Finally tap RESET PHONE.
After your Huawei nova 5 Pro reset, you see the Welcome screen and you can set up your phone.
Reset passcode or pattern lock Huawei nova 5 Pro
Log into https://www.google.com/android/find with your Google Account ID and password.
Select the Huawei nova 5 Pro from the menu on the left.
Select the Erase option from below the device information.
Select the Erase Device button on the popup.
Enter your Google Account password to confirm and send the task to your Huawei nova 5 Pro.
Bottomline
The Huawei nova 5 Pro is one of the lowest smartphones to feature facial recognition. The processor is capable enough to give a glitch-free performance and one can enjoy the uninterrupted gaming. The battery backup and the cameras are great.
Have you had any problems with Huawei nova 5 Pro that aren't mentioned here? If you leave your question in the comments below, we can help you as soon as possible!