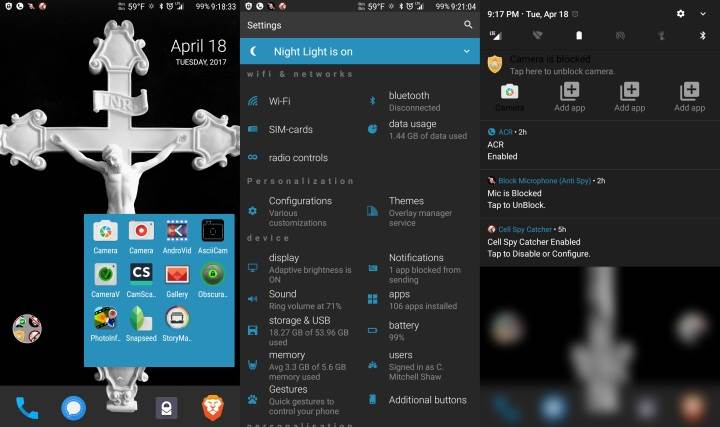 The latest update to Resurrection Remix for the Moto X Play brings the ROM up to date with the official Resurrection Remix sources. XDA Recognized Developer mrunalkaran has build an Android 7.1.2 Nougat build based on LineageOS to the device. There aren't any known bugs so far, but if you find one then be sure to report it in the thread.
If you love customization, this configurations menu is what heaven would belike. From what happens when you double tap your home button to letting any text be displayed in your Android's statusbar, theres next to nothing you can not change. Even the little things you never thought you'd want to play around with, like the animation wheen you toggle a quicksetting, can be changed and you will love it.
Resurrection Remix run fast and smooth on the X Play. No lag, no delay, no glitch. I did notice that some elements of some of the Substratum themes caused FC's on some apps and services, but Substratum noticed those, too and killed those theme elements, leaving those things unthemed. I simply went back and found elements from other Substratum themes to go over those. No problems since.
There is no doubt that RR ROM is one of the best customROMs available. A big online community, constant updates, and probably morethan a lot of customization options make it a great choice. In my very personal opinion, tosay RR is not a ROM for everybody would be a wrong assumption. Because all of these extra cool features are neatly tucked away under a single configurations menu.
Installing a custom ROM on Moto X Play is a fairly straightforward business if you follow the instructions precisely. However, I highly recommend that you backup everything on your smartphone before even attempting to flash a custom ROM for Moto X Play.
Tutorial: Step-by-step installation procedure of Resurrection Remix 5.8.3 [Unofficial] Android 7.1.2 Nougat custom ROM on Motorola Moto X Play (aka Lux) models
Download Android 7.1.2 Resurrection Remix 5.8.3 custom ROM Moto X play (Lux) and Google Apps 7.1 Nougat for Moto X play (lux).
Power off the phone and Wait a few seconds and then Press "Volume Down key +Power Key" for 5 Sec then release at the same time for about 3, or 4 seconds.Release the buttons.
Once the phone enters into TWRP Recovery, perform a full data wipe task by Select "Wipe" from the main menu of the TWRP recovery and then select "Swipe to factory reset" option on the bottom of the screen.

Return to the main TWRP menu and choose Install. Browse and select the lineage-14.1-20170720-nightly-lux-signed.zip file which you copied earlier to your phone's SD card in the second step. Swipe to Install/Flash in order to begin the flashing process.

Go back to the main menu of the custom recovery and tap Install again. Navigate to the Open Gapps zip file.
Wait for the installation process to complete. This might take a while. Once completed, select the Reboot system now option.
Now that you have successfully completed your installation, it's time to take advantage of all of the features you won't find in any other mobile operating system. Post your views in the comments section below so that other users of Moto X Play can see your valuable comments.