Viper OS ROM is one of the best ROMs available for Asus Zenfone 2 Laser. If you're in the market for a clean, fast and simple, stable ROM then Viper OS ROM is the one you should consider. It is based on Android 7.1.2 Nougat.
Viper OS currently running on the Zenfone 2 Laser is based on the latest version of Android Nougat 7.1.2 Besides the features of Nougat, ViperOS also comes with a lot of additional features and apps. This is a fast and responsive ROM that is also battery friendly. The ROM also comes with different themes that allow you to customize the user interface.
In order to install ViperOS ROMs on your Asus Zenfone 2 Laser, you have to first root your device and install a Custom Recovery like TWRP through which you will be flashing the ROM. Follow our guide here to root your Zenfone 2 Laser and install TWRP.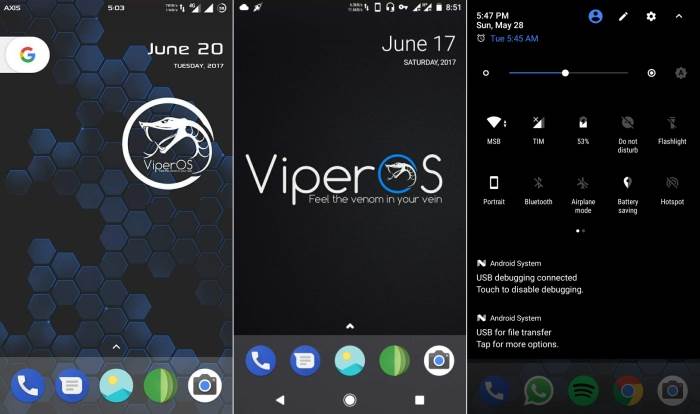 WARNING!
To make sure your device is eligible with this, you must first confirm its model number. in "About device" option under Settings. Another way to confirm model number. is by looking for it on the packaging box of your device. It must be ZOOL
Do not use the procedures discussed here on any other ASUS Zenfone 2 Laser variant or any other device of ASUS or any other company. You have been warned!
Warranty may be void of your device if you follow the procedures given on this page.
You only are responsible for your device. We won't be liable if any damage occurs to your device and/or its components.
How to install Android 7.1.2 ViperOS 2.10 ROM on Asus Zenfone 2 Laser (ZOOL)
Download the necessary ViperOS ROM from this link.
Copy the downloaded ROM and Google apps (Gapps) zip files to the phone's SD card.
Power off your Vibe K4 and boot it into TWRP mode by pressing and holding Volume Down and Power buttons until the recovery screen comes up.
Once entering the TWRP settings menu, clear the phone's memory (full) by selecting 'Wipe' option. Once done, select – 'Swipe to Factory Reset' perform factory reset
Return to TWRP settings and and hit the Install button by the selecting Viper-Z00L-7.1.2-Python-v2.1-20170721-OFFICIAL.zip file in the phone's memory downloaded from PC
Come back to TWRP menu setting to approve the installation by tapping 'Swipe to Confirm Flash'
Flashing of the custom ROM begins and after few minutes, a message 'Successful' appears on the screen, thus completing installation.
Wait until the ROM installation is complete, and then flash Gapps open_gapps-arm64-7.1-nano-20170621.zip.
After flashing Gapps, your Zenfone Max will reboot automatically into the newly installed firmware.