How to reset Redmi Note 10 to deal with phone performance issues that cannot be fixed by other troubleshooting measures and return the phone to its optimal state.
The device comes featured with a 6.57 Inch Oled display along with a screen resolution of 1080 x 2400 pixels. The screen renders a pixel density of 401 ppi. The screen is protected by a Corning Gorilla Glass which helps to avoid you from any kind of scratch or minor collusion. It has an aspect ratio of 20:9.
The Redmi Note 10 runs with the help of an Android 10. Coming to its performance, the device is armed with Octa-Core processors which have 2.6 GHz and 2.6 GHz clock speed. The powerful processor is complimented with a 6 GB RAM and an ARM Mali-G57 MC5 GPU. This strong combination is set up on a MediaTek Dimensity 820 MT6875 chipset.
Every Xiaomi cellphone is equipped with a reset feature which is useful for returning the phone to factory default conditions. After resetting Redmi Note 9 will be like new again, all settings will return to normal. Likewise, data, files, cache and applications or games that you have installed will be deleted.
Factory Reset Through Settings Menu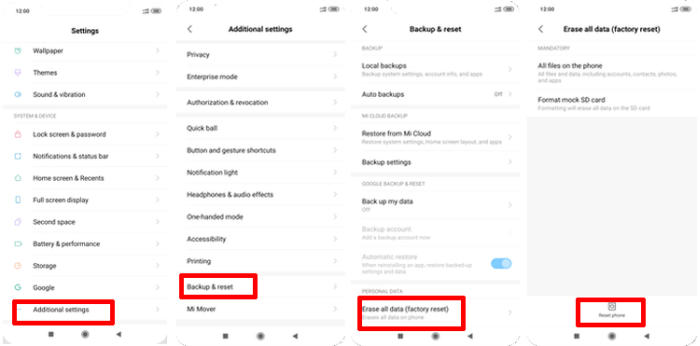 You can use factory reset via the settings menu to clean all data and files. This is useful if you want to sell this phone. In addition, problems such as decreased performance, force closed applications, unnatural heat, lags and hangs can be resolved by resetting via this settings menu.
Start by go to Redmi Note 10 phone Settings.
Find the Additional settings option among the available menu and tap on it.
You will find more option, and you need to find Backup & reset and then tap on it.
At the bottom, you will see the option of Erase all data, tap on this option as well.
Enter your unlock sequence if you have configured one, then tap Reset phone and OK to confirm.
Wait until the process is completed, where the phone will reboot back to its normal mode.
Hard Reset From MiRecovery Mode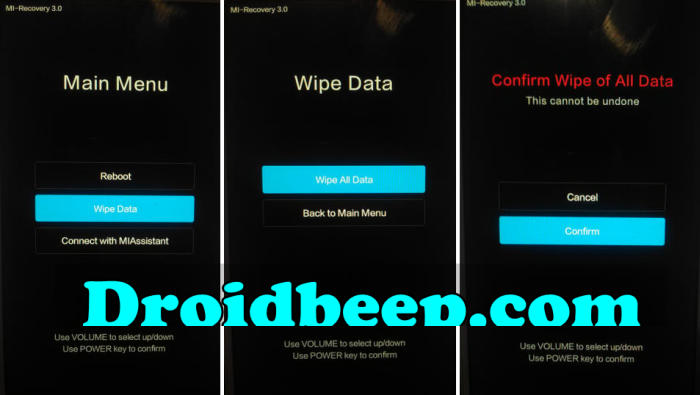 If it is not possible to use the method above, because your phone has a bootloop or is stuck on the Redmi logo, a hard reset via recovery mode is the easiest way to solve your smartphone problem.
Ensure that the Redmi Note 10 is powered off.
Press and hold the "Power" key and "Volume Up" button at the same time.
Release them when you see the Xiaomi logo.
Then you will see the Mi recovery menu.
Scroll to "Wipe data" by pressing the "Volume down" button.
Press the "Power" button.
Scroll to "Wipe All Data" by pressing the "Volume down" button.
Press the "Power" button.
The phone will now wipe all contents.
Reset via Google Find My Device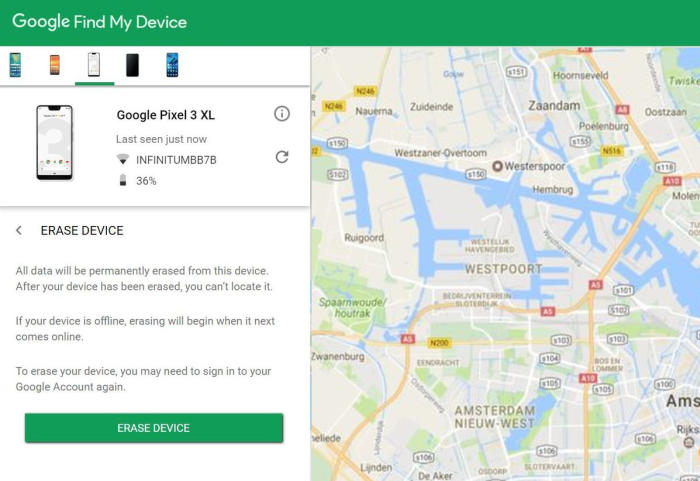 Apart from the two methods above, a fairly easy alternative to being able to reset your Android from various problems such as pattern lock, PIN and password is through the Google Find My Device service.
To be able to use this service, your Redmi Note 10 must still be connected to the internet and a Google account.
Log into Find My Device with your Google Account (email) and password.
Select the Redmi Note 10 from the menu on the left.
Select the "Erase Device" option from below the device information.
Select the "Erase" button on the popup.
Enter your Google Account password to confirm and send the task to your phone.
Bottomline
The three reset methods above, will erase all data, files and applications, therefore you should do a backup first. In addition, this phone has a FRP (Factory Reset Protection) feature so you are required to remember your Google account and the password that was previously linked.
If you have any further questions about the solution or problem, feel free to talk to us in the comments below, I am sure we will prepare a solution for your problem. Check out some tips and tricks such as how to unlock bootloader on Redmi Note 10 which will be coming soon.