If your Samsung Galaxy A9 Star Lite is running slowly or you're encountering bugs and crashes on a regular basis, an easy solution is to simply reset your smartphone to its defaults, removing all your apps, files and everything else that could be causing a problem.
The Samsung features a 6inch Amoled FHD+ (1080 x 2220 pixels) display and a front fingerprint sensor. Inside, there is a 1.8 GHz Octa-Core processor present for driving the smartphone. It is assisted by 4GB of RAM and Adreno 506 GPU. The smartphone is splash proof and boots on Android 8.0 Oreo operating system.
Like other smartphones, the Samsung also features a back camera (16MP + 5MP) and a selfie snapper 24MP. There is a front LED flash present for clear selfie images in low light condition. Acting as a stamina provider is a 3500 mAh Li-ion battery inclusive of rapid charging support.
If you've been troubled by a few bugs or of your brand new Samsung Galaxy A9 Star Lite is taking a performance hit for no apparent reason, you may want to reset the device. There are 2 general methods you can use to reset, via settings and recovery.
Hard Reset Samsung A9 Star Lite via Recovery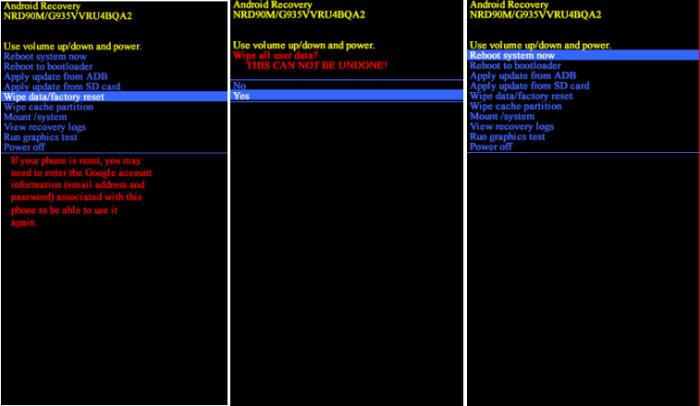 If your Samsung A9 Star Lite smartphone becomes unresponsive or doesn't perform as expected, you can perform a hard reset to return it to the factory default state.
Shut down your Samsung Galaxy A9 Star Lite completely by pressing the Power button.
Press and hold the Power, Bixby and Volume Up button at the same time.
Release them when you see the Samsung logo.
Then you will see the Android system recovery menu.
Scroll to wipe data / factory reset by pressing the Volume down button.
Press the Power button.
Scroll to Yes by pressing the Volume down button.
Press the Power button.
The phone will now wipe all contents.
Bypass Lock Screen Pin / Pattern / Password Samsung A9 Star Lite

Sometimes user forgot their password and the Samsung phone gets locked. This feature will unlock the android phone by removing all the settings.
You'll need your Google or Samsung Account credentials and the phone will need to be turned on and connected to the internet.
Unlock Screen with Samsung Find My Mobile
Log into https://findmymobile.samsung.com with your Samsung Account ID and password.
Choose the Samsung Galaxy A9 Star Lite from the menu on the left.
Select the "Erase Device" option from below the device information.
Choose the ˊEraseˋ button on the popup.
Enter your Samsung Account password to confirm and send the task to your phone.
Unlock Screen via Google Find My Device
Log into https://www.google.com/android/find with your Google Account ID and password.
Choose the Samsung Galaxy A9 Star Lite from the top left hand corner of the menu.
Select the "Erase Data" option from the action menu.
Select 'Erase Device' to confirm.
Enter your Google Account password to reset the phone.
Factory Reset Samsung A9 Star Lite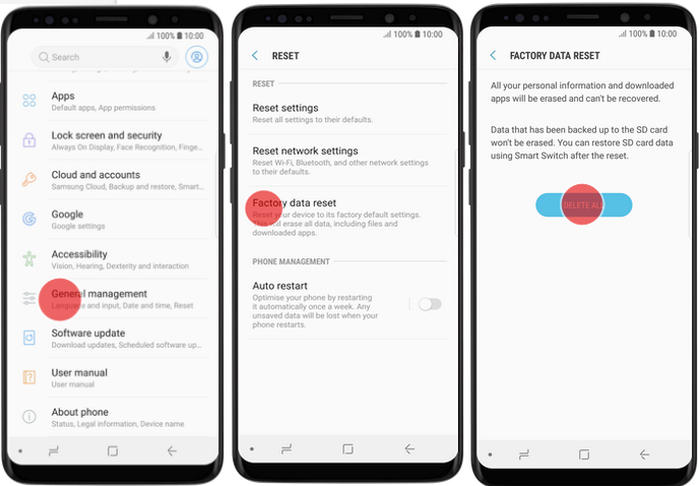 The factory reset option via settings can be a solution for Samsung A9 Star users who experience problems with full storage, viruses, lagging apps and games and so on.
Android Oreo
Open the 'Settings' app.
Tap ˊGeneral managementˋ and then tap Reset.
Tap ˊFactory data resetˋ.
The Factory reset data screen will warn you about all the data and apps that are about to be erased.
Scroll to the bottom and tap "Reset".
Tap 'Next'.
You will need to enter your pin to proceed.
Tap on "Delete All".
After the reset, the Samsung Galaxy A9 Star Lite will reboot to the initial setup screen.
Android Pie
Slide your finger downwards starting from the top of the screen.
Press the 'Settings' icon.
Press 'General management'.
Tap 'Reset'.
Press 'Factory data reset'.
Press ˊRESETˋ.
Press ˊDELETE ALLˋ. Wait a moment while the factory default settings are restored.
Follow the instructions on the screen to set up your Samsung Galaxy A9 Star Lite and prepare it for use.
[box type="warning" align="" class="" width=""]A Factory and hard reset restores the original factory settings and may delete your personal data on the internal storage, such as downloads, ringtones, images, apps, contacts, and Visual Voicemail. It does not delete data stored on the SIM card or SD card.[/box]
The final word
The Samsung Galaxy A9 Star Lite features a powerful configuration which outputs seamless performance. The cameras capture great quality pictures and videos. Furthermore, the large storage capacity along with expandable memory option makes it more lucrative. Overall, the device is a good option its price range, you can go for it.
That's all you need to know about the factory reset of the Samsung devices.