If you're having a lot of problems with your Vivo Z10, performing a factory reset may be the solution. So, why not learn how to reset Vivo Z10.
The Vivo Z10 features a 5.99 Inch HD+ IPS LCD display which exhibits a screen resolution of 720 x 1440 pixels accompanied with a pixel density of 269 PPI.
The performance of the phone is driven by Octa-Core Cortex A53 processor mated to a 4GB RAM to take care of the multitasking needs. Additionality, an Adreno 506 GPU is present which to a great extent manages the graphical requirements. A key aspect of the processing configuration of the smartphone is the inclusion of Snapdragon 450 chipset which adds to the performance level of the device.
The resetting option is available on all Android devices and it has been a lifesaver for many users. From minor software glitches to major bugs, a reset can fix almost any problem. That being said, if your device has a hardware problem, resetting won't be able to fix it.
[box type="success" align="" class="" width=""]Restoring your Vivo Z10 to factory settings will delete all data from the device. Make sure to back up any important files such as contacts and images. If you already reset your device, but don't remember your Google username and/or password, the phone cannot be used.[/box]
Factory Reset Vivo Z10 via Settings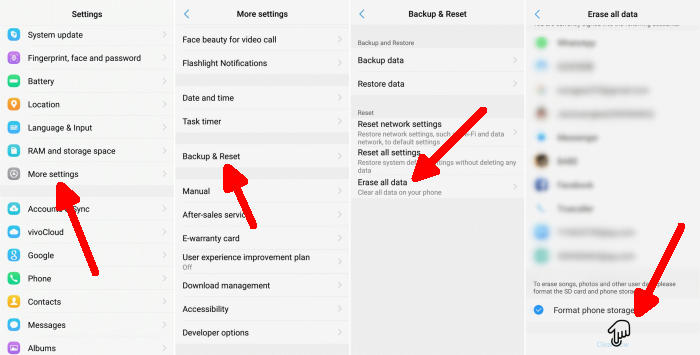 Go to the Home screen and choose Settings.
Scroll down and choose More settings.
Choose Backup & reset.
Choose Erase all data.
Checklist Format phone storage.
Tap Clear Now.
All data and settings saved on the phone will be deleted.
The Vivo Z10 will automatically reset and reboot.
Reset Screen Lock Vivo Z10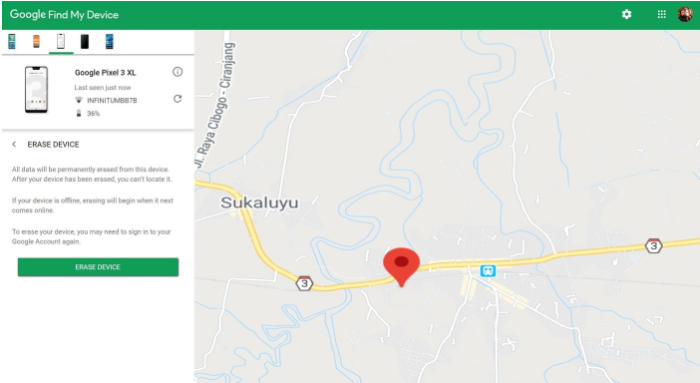 Open Find My Device and then log in with your Google Account and password.
Select the Vivo Z10 from the top left hand corner of the menu.
Choose the Erase option from the action menu.
Select Erase Device to confirm.
Enter your Google Account password to reset the Vivo Z10.
Hard Reset Vivo Z10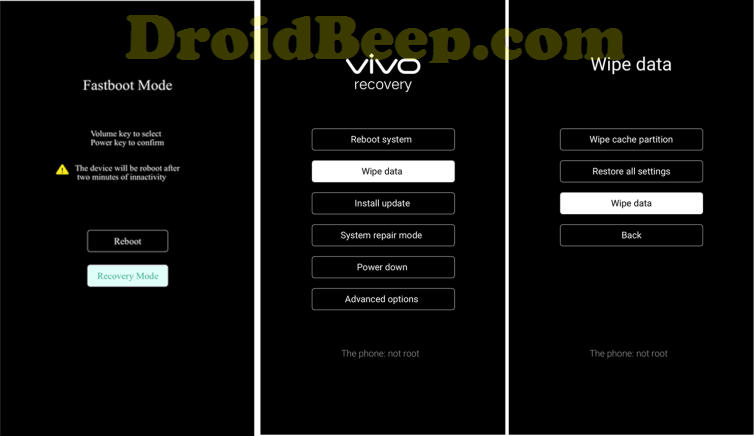 Turn off your Vivo Z10 and wait a few seconds.
Press and hold the Volume UP, and Power buttons until you see the Vivo logo.
Wait a few seconds into Fastboot mode.
Select Recovery mode by pressing Volume down button and enter it by pressing Power button.
Tap Wipe data option.
Tap Wipe data and and confirm by touching OK.
Allow several seconds for the hard reset to complete.
When finished, please tap Reboot system in Vivo recovery.
Your Vivo Z10 will now reset.
Conclusion
The Vivo Z10 is undoubtedly a flagship smartphone with a premium look. Like its siblings, the cameras of this device is also amazing which outputs ultra clear images. The storage is ample and the battery is decent and efficiently powers this device throughout the day, but we feel it could have been a tad larger.
If you have any problems that aren't mentioned here, or just need Vivo help in general, please leave a comment below, and we'll help you as best as we can.