Xiaomi Mi 9 SE has a very useful option to reset Android to its original state, which is known as, reset system to original factory settings. In this tutorial, we'll see how to reset Xiaomi Mi 9 SE.
Xiaomi Mi 9 SE has been powered by a Snapdragon 712 SoC that handles the overall performance. It has an Octa-Core processor that runs at a clock speed of up to 2.3 GHz. It also has 6GB ram handling the overall function smoothly while the Adreno 616 GPU offers good graphical experience.
Mi 9 SE holds an elegant waterdrop Super AMOLED display that provides spacious viewing experience. It stands 5.97-inch tall with no bezels on the sides. The display is provided with a screen resolution of 1080 x 2340 pixels and a pixel density of 432 ppi.
3 Methods to Reset Xiaomi Mi 9 SE
Sometimes the phone behaves irregularly due to malware and this annoys the user so by factory resetting, all the malware, and viruses present in the device will be removed. Factory reset is always a last resort and will only be used when the phone is causing serious problems, want to boost up the performance, planning to sell the phone.
Before You Start
Reset will require a minimum battery level of 25%.
Backup all your phone's data. This will reset the phone to the factory default state and it will clear out the memory buffers and reset the phone and application data.
Please make sure you have the Google account (@gmail email address and password) ready to log back into the device once the reset has completed
It is important to remember to decrypt your microSD card before a Factory Data Reset. The data on your SD card will not be able to be read or decrypted after a reset.
Hard reset Xiaomi Mi 9 SE from Recovery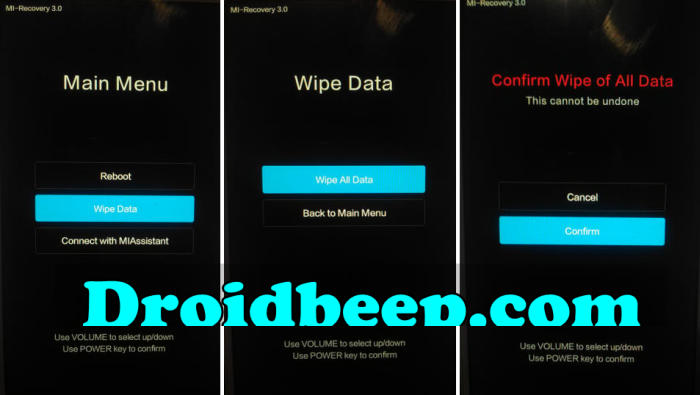 Ensure that the Xiaomi Mi 9 SE is powered off.
Press and hold the Power key and Volume Up button at the same time.
Release them when you see the Xiaomi logo.
Then you will see the Mi recovery menu.
Scroll to Wipe data by pressing the Volume down button.
Press the Power button.
Scroll to Wipe All Data by pressing the Volume down button.
Press the Power button.
The phone will now wipe all contents.
Factory reset Xiaomi Mi 9 SE via Settings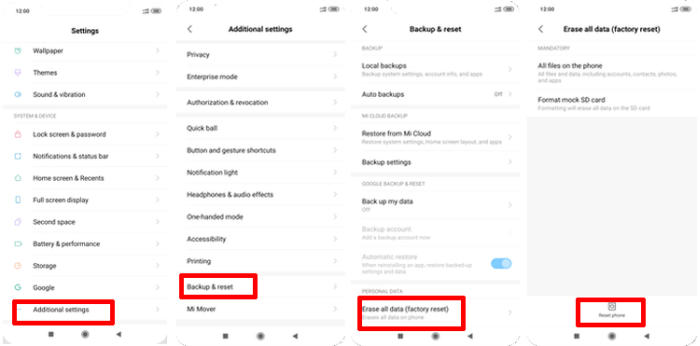 Go into the Settings.
Tap Additional settings.
Tap on Backup & reset.
Tap on Erase all data (factory reset).
Confirm you understand that all data will be erased by tapping on Reset phone.
Your Xiaomi Mi 9 SE will restart and begin the Factory Data Reset.
Reset passcode or pattern lock Xiaomi Mi 9 SE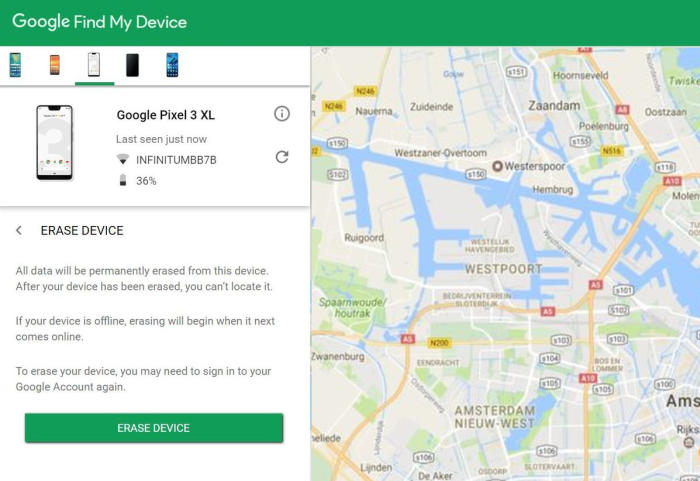 Log into Find My Device with your Google Account (email) and password.
Select the Xiaomi Mi 9 SE from the menu on the left.
Select the Erase Device option from below the device information.
Select the Erase button on the popup.
Enter your Google Account password to confirm and send the task to your Xiaomi Mi 9 SE.
Final Thought
The Xiaomi Mi 9 SE is a great smartphone, which is loaded with a lot of strong features. The device has a good display and a satisfactory battery performance and proves to be a good reliable device at this budget. The cameras are great so that these can click excellent images as well as can record crisp videos.
These are several of the most common Xiaomi Mi 9 SE problems and troubleshooting tips we have come across. Have you encountered any other problems with this phone? Save even more money by getting free advice. See you in the next article about how to flash Xiaomi Mi 9 SE.