If your Redmi 3 Pro is running slowly or you're encountering bugs and crashes on a regular basis, an easy solution is to simply reset your smartphone to its defaults, removing all your apps, files and everything else that could be causing a problem.
The Redmi 3 Pro features a 5 Inch IPS LCD with 720 x 1280 pixels screen resolution and a density of 294 PPI, which provides an enticing visual.
The phone is based on a Snapdragon 616 MSM8939v2 (1.5Ghz) chipset and powered Octa-Core processors with a clock speed of 1.5 GHz. The processor is accompanied by a massive 3GB ram which helps in multitasking. To handle the graphics, there is an Adreno 405 GPU. The handset runs Android 5.1.x Lollipop out of the box.
3 Methods to Reset Xiaomi Redmi 3 Pro
The viruses and malware may cause slower the performance of your Redmi 3 Pro and it will also cause problems with the operating system. A factory reset will remove all malware, viruses and your smartphone will be back to normal. Apart from that, it will improve the performance of your phone and your application will run smoothly.
Before You Start
If you are unable to perform a reset, please charge for 10-20 minutes and try reset again.
Before you perform a factory reset, be sure to back up your personal data, so you don't lose it all.
When you try to start up your device after completing a factory reset, you are required to log in to the original Google Account in the initial setup.
Factory reset Xiaomi Redmi 3 Pro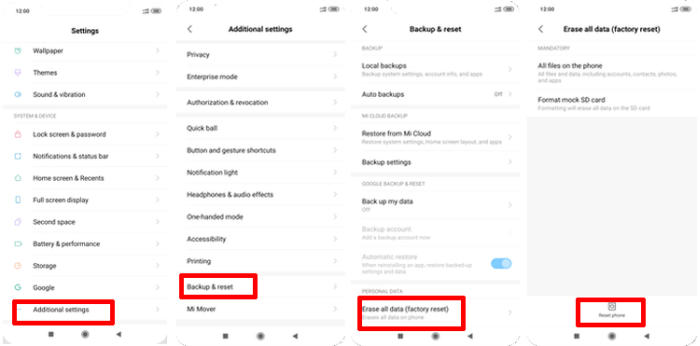 Go to the Home screen and choose Settings.
Scroll down and choose Additional settings.
Choose Backup & reset.
Choose Erase all data (factory reset).
Tap Reset phone.
All data and settings saved on the phone will be deleted.
The Redmi 3 Pro will automatically reset and reboot.
Reset passcode or pattern lock Xiaomi Redmi 3 Pro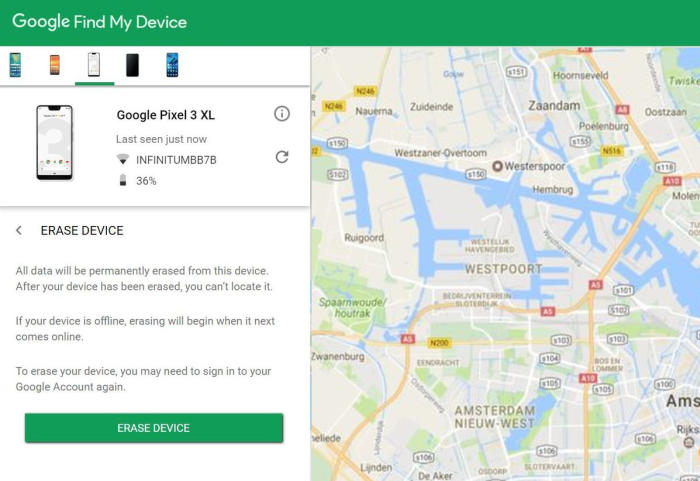 Log into https://www.google.com/android/find with your Google Account ID and password.
Select the Xiaomi Redmi 3 Pro from the menu on the left.
Select the Erase Device option from below the device information.
Select the Erase button on the popup.
Enter your Google Account password to confirm and send the task to your Redmi 3 Pro.
Hard reset Xiaomi Redmi 3 Pro from Recovery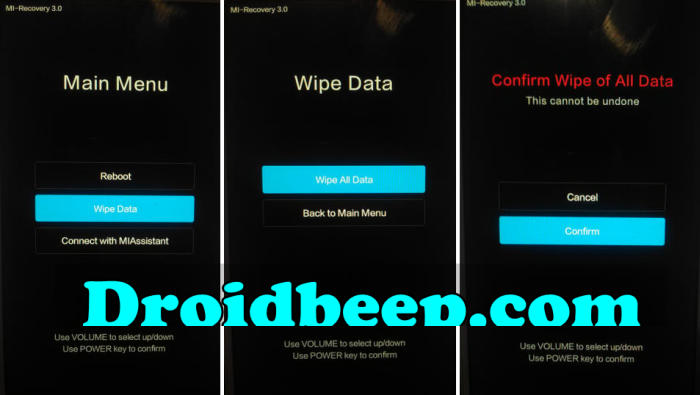 Ensure that the Xiaomi Redmi 3 Pro is powered off.
Press and hold the Volume Up, and Power buttons until you see the XIAOMI logo.
Wait a few seconds.
Navigate with the volume buttons to Wipe data and confirm with the Power button.
Navigate to Wipe All Data and confirm with the Power button.
Allow several seconds for the factory data reset to complete.
Your Xiaomi Redmi 3 Pro will now reset.
Final Thought
The Redmi 3 Pro also promises to continue the series not only in terms of battery but also in performance and cameras. The gaming experience is great, thanks to the clear sharp display and the great graphics processor. Moreover, the presence of a big battery means you can always enjoy it to the fullest without worrying much about charging it very often.
Fortunately, there aren't many Xiaomi Redmi 3 Pro specific problems. Some of the problems that the device has are more than troublesome, but fortunately can be fixed at most in a few minutes. Every problem has a solution, no matter how complex. See you in the next article about how to root Xiaomi Redmi 3 Pro.