If you think your Xiaomi Mi5x is not working as it should, or you're getting worrying error messages, it might be time to reset your Xiaomi Mi5x to its factory settings. Using this guide, you'll learn how to reset Xiaomi Mi5x.
The Xiaomi Mi5x comes with an amazing bezel-less display having a small notch on the top. It can provide great viewing experience with the help of the huge 5.5inch IPS LCD display having a screen resolution of 1080 x 1920 pixels and a pixel density of 401 ppi. It comes with a Corning Gorilla Glass which will protect the display.
Under the hood, it provides an Octa-Core processor having a clock speed of 2 GHz which is seated upon the Snapdragon 625 MSM8953 chipset, together which can deliver great performance. There is an Adreno 506 GPU that will handle the graphics of the device smoothly. It has a 4GB ram that will handle the multitasking of the device.
3 Methods to Reset Xiaomi Mi5x
If your Xiaomi Mi5x is behaving stubbornly slow or unresponsive or maybe you want to set it up again then resetting your Xiaomi Mi5x will work. There is a simple method of resetting your Xiaomi Mi5x, we have listed some helpful tips to help guide you through the process.
Performing a hard and factory reset will wipe all data like your files, contacts, call log, messages stored on the internal storage and all 3rd-party apps and app updates.
Reset passcode or pattern lock Xiaomi Mi5x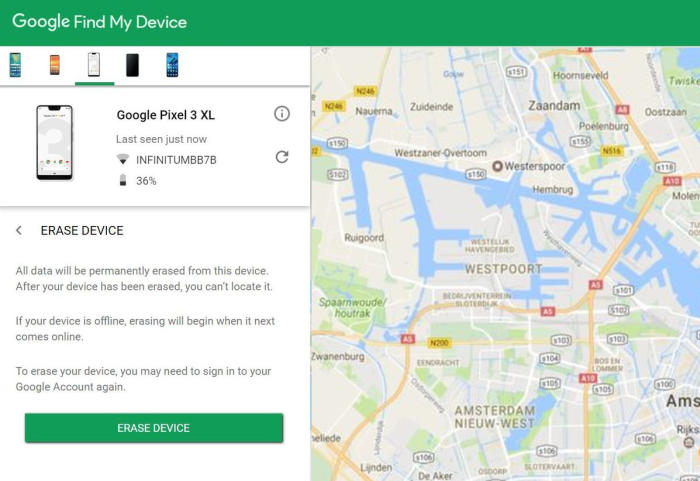 Log into https://www.google.com/android/find with your Google Account ID and password.
Select the Xiaomi Mi5x from the menu on the left.
Select the Erase Device option from below the device information.
Select the Erase button on the popup.
Enter your Google Account password to confirm and send the task to your Xiaomi Mi5x.
Factory reset Xiaomi Mi5x via Settings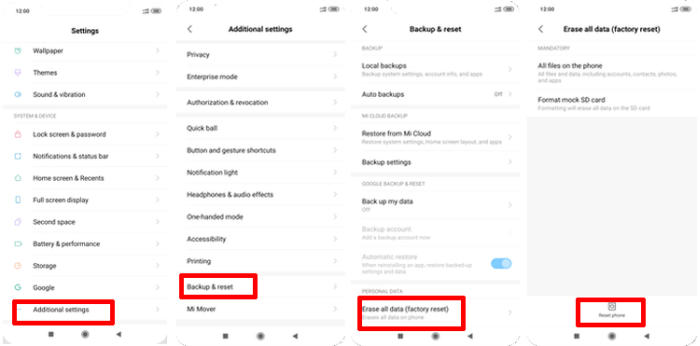 In the Home screen tap Settings.
In the Settings screen, tap Additional settings.
In the Additional settings screen, tap Backup & reset.
In the Backup & reset screen, tap Erase all data (factory reset).
At the bottom of the screen tap the Reset phone option.
After your Xiaomi Mi5x reset, you see the Welcome screen and you can set up your device.
Hard reset Xiaomi Mi5x via Recovery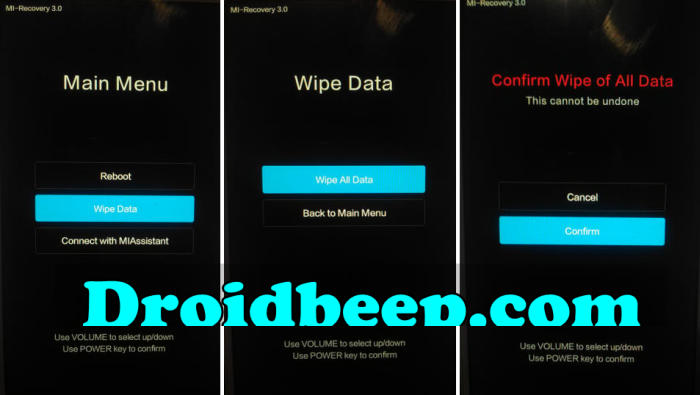 Turn off your Xiaomi Mi5x and wait a few seconds.
Press and hold the Volume Up and Power buttons at the same time on your Xiaomi Mi5x.
Release the all buttons when the phone vibrates.
In recovery use the Volume Up and Volume Down buttons in order to scroll up and down and the Power key to select.
From recovery, after selecting Wipe data on the hard reset process, choose Wipe All Data.
Then you select Confirm if you are sure to reset data.
Select reboot system now.
Bottomline
The Xiaomi Mi5x has the configuration which works at the pace of Xiaomi Mi5x cars and in addition comes in metallic body and slim design. Its beefy battery keeps it alive for many hours and its awesome cameras can engage its users for a handful experience in photography. Apart from these, the smartphone also gets other features like a quick charging facility, which give enough reasons to grab this.
I hope that this article will help you in solving any of the problems you might be facing with the smartphone. For other tips and tricks such as how to flash Xiaomi Mi5x.