In this tutorial we are going to guide you through the whole process of installing the Viper OS 3.1 Coral on your favourite Xiaomi Redmi Note 3 PRO (Kenzo).
This is yet another ROM based on Lineage ROM, but Viper comes with a specially designed and well-rounded user interface. The ROM also has system-wide burn in protection, spectrum support and OMS support. It also ships with OTA update support, which is always a welcome addition.
Viper makes several tweaks to the battery consumption and modes to prolong the life on a single charge. This Custom ROM for the Redmi Note 3 Pro also comes with an optimal battery charge level alert system.
Overall it's a robust experience and if you want a daily driver, Viper OS is a worthy contender.
Make sure that you create a full backup of all your important files. Also, make sure that your phone is charged at least 60% before proceeding with the installation process. This guide is only for the Redmi Note 3 PRO aka Kenzo variant and if you try to install this on any other variant, chances are that you'll end up bricking your phone.
Screenshot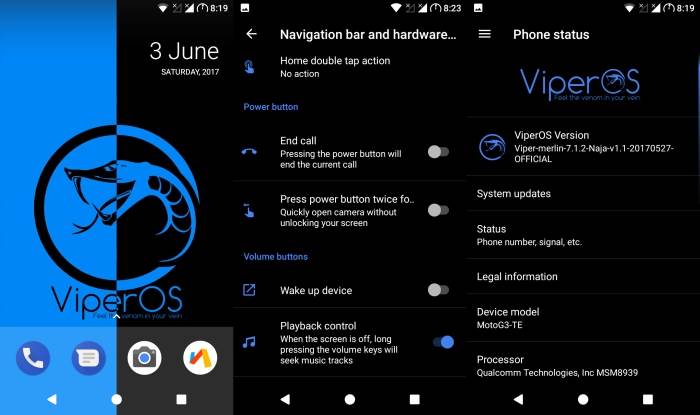 How To Install Viper OS Coral Nougat ROM in Redmi Note 3 PRO
Download Android 7.1 Nougat ViperOS ROM for Redmi Note 3 PRO and Google Apps 7.1 Nougat for Redmi Note 3 PRO.
Now reboot into TWRP. Press and hold the Volume UP Button and Power Button. When you see the Mi Boot Screen, release the Buttons.
Once the phone enters into TWRP Recovery, perform a full data wipe task by Select "Wipe" from the main menu of the TWRP recovery and then select "Swipe to factory reset" option on the bottom of the screen.

Return to the main TWRP menu and choose Install. Browse and select the
Viper-kenzo-20171017-Coral-v3.1.1-Final-N.zip file which you copied earlier to your phone's SD card in the second step. Swipe to Install/Flash in order to begin the flashing process.

Now return to home in the TWRP and tap on the install option. Navigate to the open_gapps-arm64-7.1-pico-20180516.zip file and select it.
Once both the Gapps and ROM are installed, and then select "Reboot System" button.
That's it guys! now when your Kenzo restarts it will ask for all the preliminary configurations which you normally do when you buy a new Android phone….Now sit back, relax and enjoy the all new ViperOS on your Redmi Note 3 PRO.
Make sure that you follow the steps mentioned above properly and feel free to shoot any questions below on how to install Android Nitrogen custom ROM on Redmi Note 3.