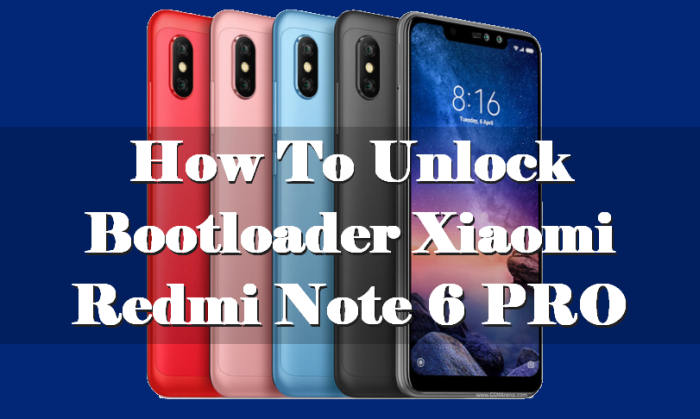 How To Unlock Bootloader Xiaomi Redmi Note 6 PRO – There are multiple reasons to unlock a phone's bootloader, but the most prominent one is because you want to root. Before rooting your Redmi Note 6 PRO device, you'll need its bootloader unlocked so you can flash the needed files. Additionally, you'll need an unlocked bootloader for custom recoveries and ROMs.
The locked bootloader won't allow installation of any custom softwares or change system files. First we need to unlock the Bootloader on Redmi Note 6 PRO. Then we can install TWRP to flash the Root file (Magisk) in Redmi Note 6 PRO.
Xiaomi has already launched the Redmi Note 6 Pro in Thailand and in China. Now that the smartphone is already official in its home market, we expect Xiaomi to bring the Redmi Note 6 Pro in India very soon. Although the company is yet to reveal the India launch details of the Redmi phone, rumours suggest that the Redmi Note 6 Pro may come to India before November 20. Some rumours also hint that the Redmi Note 6 Pro could be priced somewhere close to the Redmi Note 5 Pro which currently sells for Rs 14,999 in India.
Apart from the India launch dates and the price, we already know everything about the Redmi Note 6 Pro. The Redmi Note 6 Pro comes with a number of upgrades compared to the Redmi Note 5 Pro. The major upgrade, however, is in the camera. This is the first Redmi phone and also an under Rs 20,000 phone to come with a total of four cameras in India. The Redmi Note 6 Pro incorporates two cameras in the front and two on back. The Xiaomi phone also comes with a notched display and narrow bezels on the sides. In India, this will be the second Redmi phone to come with a notched display, after the Redmi 6 Pro.
What is bootloader
The bootloader is a program that starts whenever a device is powered on to activate the right operating system. It is therefore not only a trait reserved to Android, but also one that can be find out all devices with an operating, be it a smartphone, a tablet, a PC etc.
I've already mentioned why you'd want to unlock your bootloader, so let's get into what you'll need.
How To Unlock Bootloader Xiaomi Redmi Note 6 PRO (Vince)
Tap on About Phone and locate MIUI version. In quick successions, tap on this option 7 times, which will unlock Developer Settings and you'll see a message saying "You are now a developer!".
Go back a step and in the main menu of Settings, scroll down to Additional Settings, and then on Developer options.
Here you'll find an option, OEM unlocking. Tap on it to toggle it on, you might be asked for your passcode or unlock pattern followed by a warning about the potential dangers of bootloader unlocking. Tap Enable on it.
Now within the same menu, head over to Mi Unlock Status and tap on it. Then tap on Add account and device.

Now that you've followed all of the steps above, it's safe to move to your Windows PC. Download Mi Unlock Tool using this link and unpack the ZIP file.

Now run the Mi Flash Tool then it will ask to login to your existing account so fill up login credentials and login with the same Mi account that you used before.

Now connect your Redmi Note 6 PRO via USB cable and restart it in Fastboot mode. To boot up in Fastboot mode, switch off the device and hold the Volume Down Button. As you continue holding this button, press the POWER button and do not release the volume down button until you see Fastboot in green text displayed on the screen.

Now, the Mi Unlock tool will show a device connected. Once it does, click on Unlock and you'll be warned twice about the potential harms of bootloader unlocking which includes lesser protection and greater vulnerability to malware. Click on Unlock anyway.

Now, you can sit back and relax as the tool tries to unlock your Redmi Note 6's bootloader. If you're trying it for the first time, chances are you'll see an error asking you to try after 720 hours (30 days). If you're lucky enough, your Redmi Note 6's bootloader will be unlocked and you'll see a message informing the same.
If your efforts hit a wall, you can try again after the 720 hour period is over and this time, hopefully, you should be successful.

To check the status of the bootloader, you can go to Settings -> Additional settings -> Developer options -> Mi unlock status and you'll see a message saying the bootloader is unlocked.
If you had any trouble unlocking your bootloader, or are still curious on what to do next, leave a comment below. We'll get back to you as soon as possible with assistance.