Factory resets are the best solution for many Android issues. If your Oppo A83 is much slower than before, you have a malware infection that won't go away or plan to sell your phone, a factory reset is the most convenient solution. Today, we're here to tell you how you can factory and hard reset Oppo A83.
The Oppo A83 flaunts a 5.7-inch IPS LCD display having a great screen resolution of 720 x 1440 pixels and a sharp density of 282 PPI.
In terms of performance, it has been equipped with the Helio P23 (MT6763T) SoC upon which an Octa-Core (4x 2.5 GHz ARM Cortex A53 + 4x 1.6 GHz ARM Cortex A53) processor is seated. The performance is further assisted by the ARM Mali-G71MP2 GPU that takes the load of the processor while the presence of 3GB RAM handles smooth multitasking.
3 Methods to Reset Oppo A83
Before you can even begin to think about giving your Oppo A83 to someone else, you need to take some time to wipe and reset it to factory settings. Doing so will ensure that nobody has access to the treasure trove of personal information we all keep on our phones. This also works if your Oppo A83 randomly shuts off and won't turn back on.
Before You Start
Make sure that your Oppo A83 is charged at least 50% so that your device doesn't run out of power during the resetting process.
Backup all your phone's data. This will reset the smartphone to the factory default state and it will clear out the memory buffers and reset the smartphone and application data.
Once the hard reset is done, the phone will ask to enter the Google account and password that was previously linked with the device. Therefore, you must know the google email and the password.
If you have encrypted the microSD card, you must decrypt it before resetting the phone. Otherwise, your smartphone will not be able to read the data on the card.
Reset Screen Lock Oppo A83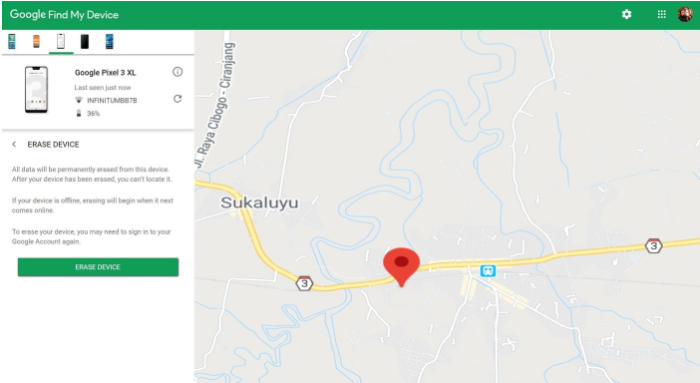 Log into https://www.google.com/android/find with your Google Account ID and password.
Select the Oppo A83 from the menu on the left.
Select the Erase Device option from below the device information.
Select the Erase button on the popup.
Enter your Google Account password to confirm and send the task to your Oppo A83.
Factory reset Oppo A83 via Settings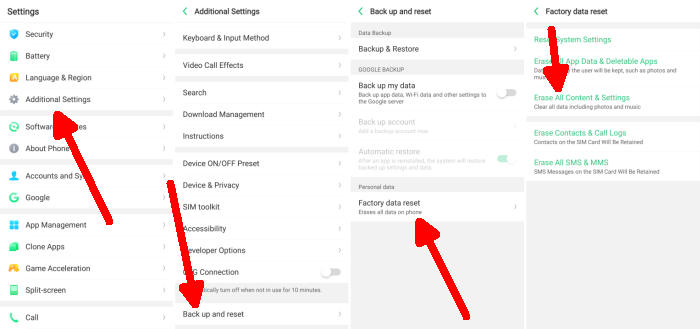 Go into the Settings.
Tap Additional settings.
Tap on Backup & reset.
Tap on Erase all data (factory data reset).
Confirm you understand that all data will be erased by tapping on Erase Data.
Your Oppo A83 will restart and begin the factory data reset.
Hard reset Oppo A83 via Recovery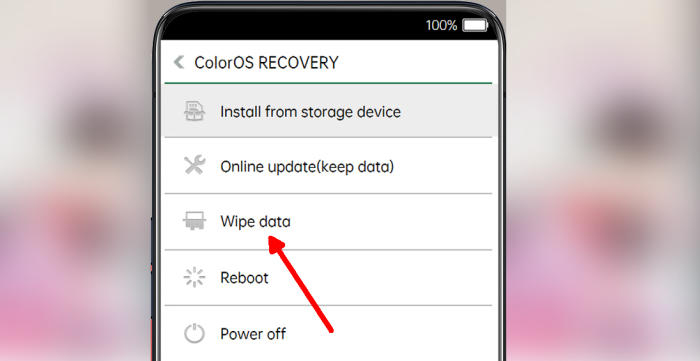 Ensure that the Oppo A83 is powered off.
Press and hold the Volume Down, and Power buttons until you see the OPPO logo.
Wait a few seconds.
Tap Wipe data option.
Tap Wipe data (Keep SMS, Contacts and Photos) and and confirm by touching OK.
Allow several seconds for the hard reset to complete.
When finished, please tap Reboot in ColorOS recovery.
Your Oppo A83 will now reset.
Bottomline
The Oppo A83 is a decent phone that has a mid-range price tag. It has a great processor under the hood, that provides an excellent performance. Moreover, the presence of a big battery means you can always enjoy it to the fullest without worrying much about charging it very often.
This is a common problem, so if you were able to unlock your device thanks to the guide or there is a method that we haven't covered let us know in the comments below.