Xiaomi Mi Max 2 will have an immensely handy option to reset Android to original state, which is known as, reset system to original factory settings. In this tutorial, we'll see how to reset Xiaomi Mi Max 2.
The Xiaomi comes with a 6.44 Inch IPS LCD display. The density of the screen is 342 PPI and the resolution is 1080 x 1920 pixels which provide a good visual experience.
The phone is based on Snapdragon 625 MSM8953 chipset upon which Octa-Core processors are provided with Cortex A53 clock speed each that make this device a better option in multitasking and gaming. The processor is further assisted by a 4GB ram and for the graphics part, there is an Adreno 506 GPU. The whole operation is run by Android 7.1.1 Nougat.
3 Methods to Reset Xiaomi Mi Max 2
When your Xiaomi Mi Max 2 starts showing signs of slowing down, or restarts for no reason at all, or some other issues, you might want to do a factory reset if restarting doesn't work. If your device is still not working, your last option is to do a hard reset.
All data saved on your phone is deleted when you perform a factory reset. All apps are uninstalled. Back up all important files, either on the Web or with an external storage device, before resetting the phone.
Here are the three methods to reset your Mi Max 2 to the factory settings.
1.Hard Reset via MiRecovery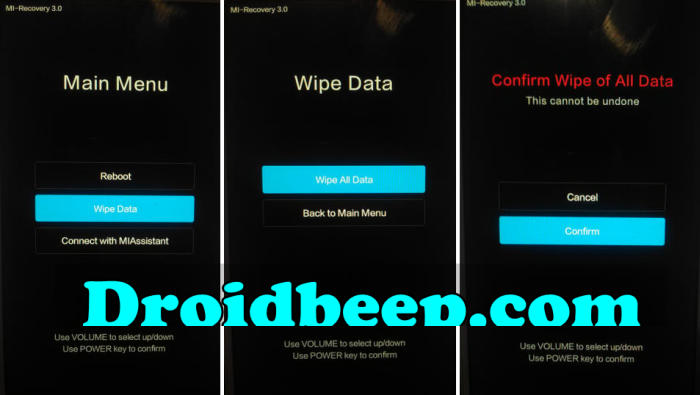 If your Xiaomi phone is stuck on the logo (Bootloop) or locked by a pattern, you can solve this by hard reset via recovery mode.
Turn off your Xiaomi Mi Max 2 and wait a few seconds.
Press and hold the Volume Up key and the Power key.
When the Xiaomi logo displays, release all keys.
Press the Volume down key several times to highlight Wipe data.
Press Power button to select.
Press the Volume down key to highlight Wipe All Data and press the Power key to select.
When the hard Reset is complete, Reboot system now is highlighted.
Press the Power key to restart the device.
2.Factory Reset from Settings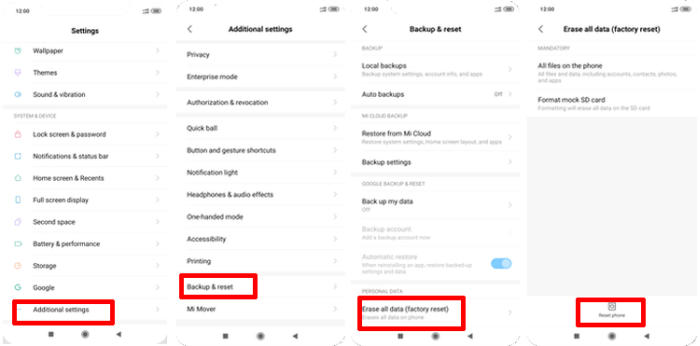 For users who want to sell this phone, reset via settings is the easiest way to clean data and files. In addition, you will never find problems such as overheating, lag, viruses and so on.
Go into the Settings.
Tap Additional settings.
Tap on Backup & reset.
Tap on Erase all data (factory reset).
Confirm you understand that all data will be erased by tapping on Reset phone.
Your Xiaomi Mi Max 2 will restart and begin the Factory Data Reset.
3.Reset Screen Lock Mi Max 2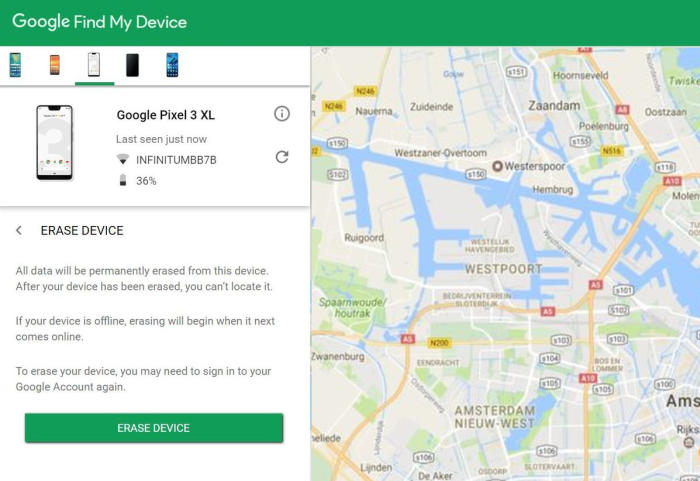 If you can't remove the screen lock with a hard reset, you can try using the Google Find Device service as long as your phone is still connected to the internet and also a Google account.
Log into https://www.google.com/android/find with your Google Account ID and password.
Select the Xiaomi Mi Max 2 from the menu on the left.
Select the Erase Device option from below the device information.
Select the Erase button on the popup.
Enter your Google Account password to confirm and send the task to your Xiaomi Mi Max 2.
Conclusion
The Xiaomi Mi Max 2 comes with a powerful spec-sheet at a high-range price bracket. The robust hardware components accompanied by a massive RAM give the device a highly appreciated tag at this price. Its beefy battery keeps it alive for many hours and its awesome cameras can engage its users for a handful experience in photography. Its amazing display serves a great visual experience while reading or watching something.
Fortunately, there aren't many Xiaomi Mi Max 2 specific problems. Some of the problems that the phone has are more than troublesome, but fortunately can be fixed at most in a few minutes. Every problem has a solution, no matter how complex. See you in the next article about how to update Xiaomi Mi Max 2.