There are many reasons you'll want to reset your Xiaomi Mi5s, and there are many different methods to do so. Here you'll learn about three different levels of resetting your Xiaomi Mi5s.
The Xiaomi Mi5s is equipped with a Quad-Core processor which clocks at a speed of 2.15 GHz. The processor is assisted by a 3GB RAM that delivers a quality performance while running multiple tasks. Moreover, the graphical requirements of the system are taken care of by an Adreno 530 GPU. The entire configuration is built upon a Snapdragon 821 2.15GHz chipset.
The Xiaomi Mi5s sports a 5.15 Inch IPS LCD display which exhibits a screen resolution of 1080 x 1920 pixels. The smartphone is armed with a 12MP primary camera. In addition, a 4MP lens with a LED flash is present at the front.
3 Methods to Reset Xiaomi Mi5s
Xiaomi users really like their Xiaomi Mi5s, if a Xiaomi user has a problem, usually just restart it. However, if it's still not normal after you force a restart, then you should reconsider doing a factory reset on your phone.
All data saved on your phone is deleted when you perform a factory reset. All apps are uninstalled. Back up all important files, either on the Web or with an external storage device, before resetting the phone.
Reset Screen Lock Xiaomi Mi5s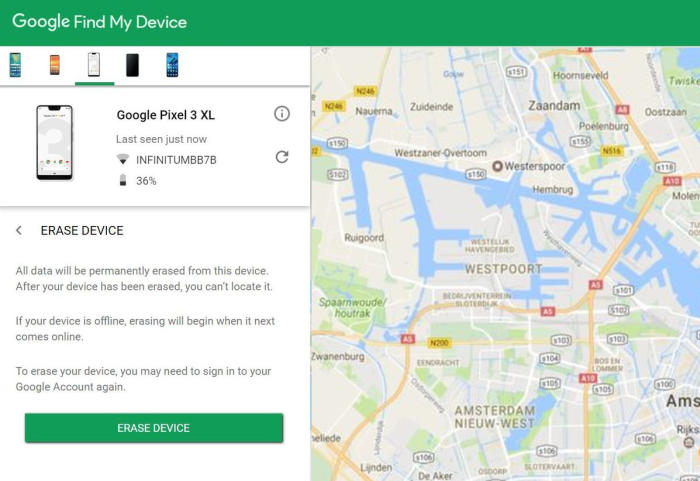 Open Find My Device and then log in with your Google Account and password.
Select the Xiaomi Mi5s from the top left hand corner of the menu.
Choose the Erase Data option from the action menu.
Select Erase Device to confirm.
Enter your Google Account password to reset the Xiaomi Mi5s.
Factory reset Xiaomi Mi5s via Settings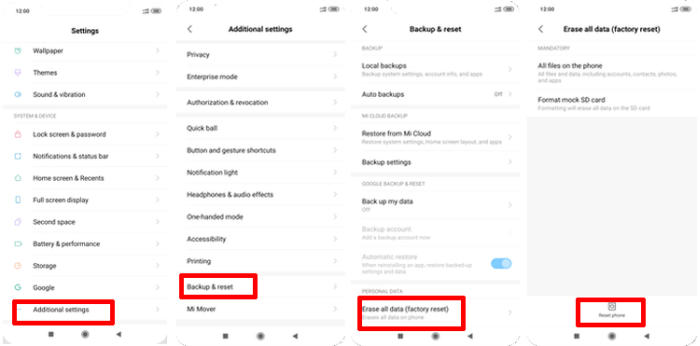 Go into the Settings.
Tap Additional settings.
Tap on Backup & reset.
Tap on Erase all data (factory reset).
Confirm you understand that all data will be erased by tapping on Reset phone.
Your Xiaomi Mi5s will restart and begin the Factory Data Reset.
Hard reset Xiaomi Mi5s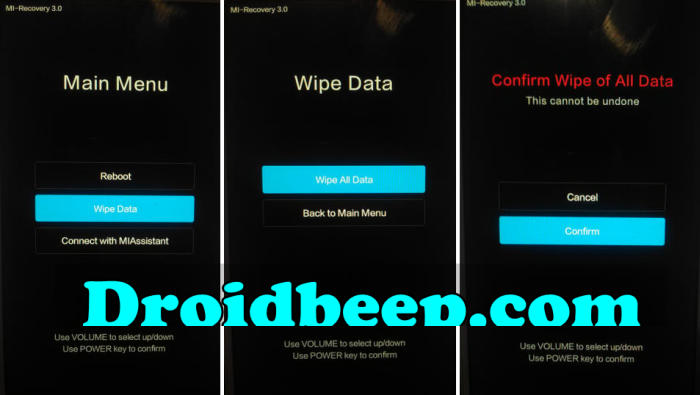 Shut down your Xiaomi Mi5s completely by pressing the Power button.
Press and hold the Power key and Volume Up button at the same time.
Release them when you see the Xiaomi logo.
Then you will see the Mi recovery menu.
Scroll to Wipe data by pressing the Volume down button.
Press the Power button.
Scroll to Wipe All Data by pressing the Volume down button.
Press the Power button.
The phone will now wipe all contents.
Bottomline
The Xiaomi Mi5s is a great mid-range phone from the manufacturer Xiaomi. It has a good battery backup and decent processing with a nice set of cameras. For the storage, there is sufficient room to keep files, games, apps and more.
By the way, what method are you using? Do let me know in the comments below. Also, feel free to reach out for any doubts or queries. Look forward to other articles such as how to frp unlock Xiaomi Mi5s.