Oppo A83 is a mid-range smartphone with trendy looks and some amazing features. You can easily discover the unique fonts on this app and change fonts for free.
The Oppo A83 features 5.7-inch IPS LCD display. The display of the device comes with a good resolution of about 720 x 1440 pixels and has a pixel density of 282 PPI, which delivers an amazing viewing experience.
The smartphone is loaded with a 3180 Li-ion battery that is able to provide backup for a whole day, also it comes enabled with fast charging feature that makes sure that the battery gets charged quickly.
Oppo A83 running ColorOS 5.2 offer a ton of customisation features, thus avoiding the need to use most third-party apps. By switching to a custom font of your choice, you can significantly change the look and feel of your Oppo A83.
Change Font with zFont App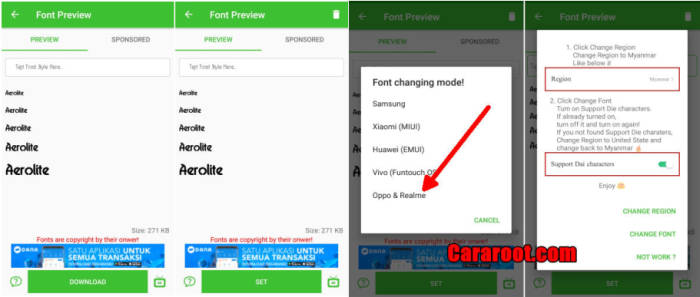 zFont is another font changer app for Oppo users which allows you to easily change font style on your Oppo A83 smartphone. You can easily choose any of them compatible with your phone font program and make a unique font design.
Find and install zFont custom font installer app for Oppo A83 (2018) from Google Play Store.
Once the App installed in your Oppo A83, open zFont app.
On the interface, you'll find menu options for regular font, colored font, and emoji.
Now, choose Cool to display different unique font options.
Choose your preferred font and click Download.
The custom font will start to download. Once download completed, ta Set button.
Next, the option Font Changing model will pop up.
Choose OPPO & Realme.
This message will pop up "Notice! Do you want install font?" and you can click Install.
Once the font installed, you will be presented with options as seen on this image above.
Click on Change Region and choose Myanmar.
Next, click Change Font and activate option Support dai character on the setting.
Or check on Theme Store.
You should now have new fonts on your Oppo A83 to choose from.
Change Font on Oppo A83 Use APK Editor
You can easily use this app to make unique fonts on your Oppo A83. It provides stylish look of the font with attractive font option so that you can create unique fonts for free.
Download OFonts APK and APK Editor.
Next step, install both apps in your Oppo A83.
Log on www.dafont.com and you can download your preferred font there.
Once installed, change the Region setting.
Open Setting and choose Language and Region menu.
Change region setting to Myanmar and set the time based on the current local time.
Open APK Editor app and choose "Select Apk From App".
Next, find OFont Indonesia
Choose "Simple Edit (FILE REPLACEMENT)" choose folder "Assets" and choose "Fonts".
Tap Menu "Edit" and open download folder to choose your downloaded font.
Next choose menu "Save". The font file will be extracted
Once the font fully extracted, open menu Setting and choose Application Management.
Choose ApplicationOPPO Fonts .
Click Erase Application and once again, open APK Editor.
Install OFont Indonesia app and choose Setting – Display and Brightness and activate Support Dai Character.
That's it. You are done.
Now enjoy your customized font on your Oppo A83.
You no longer have to put up with that boring font anymore. Do you know other font changer apps for Android? Let us know in the comments below!