Changing the font style is one way to beautify the appearance of your Vivo Y20 smartphone. There are several ways you can use to replace the default font with a custom font on this Vivo phone.
The Vivo Y20 flaunts a 6.51 Inch IPS LCD display with a screen resolution of 720 x 1600 pixels and a pixel density of 270 ppi, having a stunning aspect ratio of 20:9. The device shines triple camera of 13 MP + 2 MP + 2 MP that clicks amazing pictures and shoots 4K videos. The phone also has front camera lenses of 8 MP that will impress users while video calling and capturing selfies.
The internal storage offered by the device is 64 GB and a lot more can be stored in external memory which is expandable up to 250GB. The Vivo Y20 runs on Octa-Core (Qualcomm) processors, which are seated upon the Snapdragon 460 chipset. To handle the graphics of the device, there is an Adreno 610 GPU and the 4 GB RAM is provided to handle the multitasking of it.
Two Ways To Change Fonts In Vivo Y20 Series
Vivo Y20 is equipped with an attractive interface called FuntouchOS, you will find various features, one of which is the Theme Store which provides hundreds of wallpapers, themes and fonts to change the appearance of your phone so you don't get bored.
If you feel that the font style in iTheme is not suitable, you can add a custom font by following the tutorial below.
1.via zFont App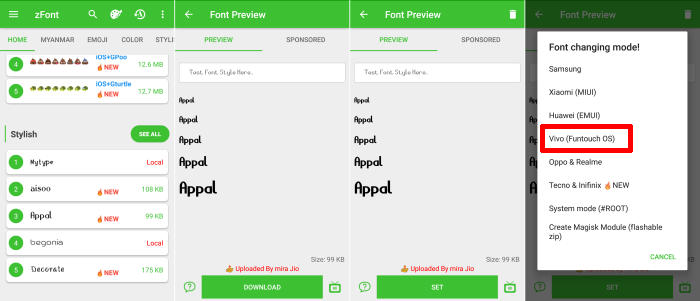 There is no doubt that the greatness of the zFont application is compatible with various phone models, both old and new, such as the Vivo Y20.How to Change Fonts on Vivo Y30 More Unique
Find and install zFont app from Google Play Store.
Open the app to find menu options of regular font, colored font, and emoji.
Choose Style to see the list of unique fonts.
You can choose one preferred font and click Download.
Once download completed, tap Set.
Next, the option Font Changing model will appear. Choose Vivo (FuntouchOS).
iTheme will open, choose Lokal and afterwards, choose Font Local.
Apply a font from zFont.
The new font style is activated and your phonewill have better display look.
2.via iMod V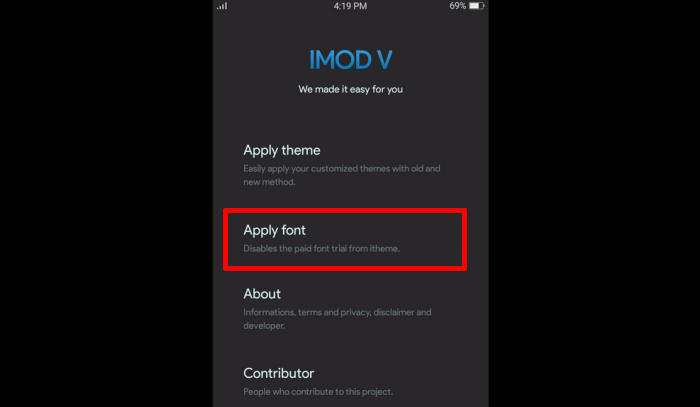 If you are interested in one of the fonts on iTheme, you can use the iMod V application to get these fonts.
Download iMod V APK for Vivo Y20.
Open folder Download, and click file IMOD V 1.0.apk
To install the app, choose Setting, and activate Unknown Source.
Once installed, open iTheme and choose Font.
Choose your preferred font from the list.
Download and install your preferred font.
Then close iTheme through the recent app.
Then open the iMod V app and after that click Apply Font.
Your Vivo will automatically have new font style.
Finally
That's the guide on how to change the font style on the Vivo Y20 Funtouch 10 OS Android 10.
We hope you enjoy your new found ability to change the font style and size on your font in your phone. What're your favorite fonts for Android apps? just leave a comment below. Enjoy!